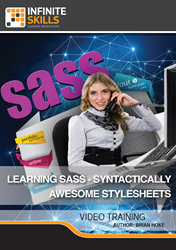 Learn Sass at your own speed.
(PRWEB) May 28, 2014
Software training firm Infinite Skills Inc. last week released its "Learning Sass Tutorial," an introductory course teaching the essential tools and techniques for using this CSS pre-processing language to simplify web design.
Sass stands for Syntactically Awesome Style Sheets. It is the pre-processing language that comes built-in with Ruby on Rails, and can be downloaded and installed for use on both current PC and Mac operating systems.
Infinite Skills' Learning Sass Tutorial is a brief course taught by an expert developer that demonstrates Sass features such as nesting and reusing mixins which enable developers to save time in CSS development and simplify CSS code for user browsers.
Learning Sass Training Video - Tutorial
Course author Brian Hoke currently works at the web development firm Bentley Hoke as a developer, designer, and marketer. He concentrates on web app development, particularly database-backed web apps, email campaigns, search engine marketing, and working with WordPress and other PHP and MySQL tools. With advanced degrees in the liberal arts, Hoke now combines his early experience in teaching with his expertise in web development.
Hoke begins with an introduction explaining how and why to use CSS pre-processing languages, and includes instructions for installing and setting up Sass on both Mac and PC systems.
The course then develops with Hoke taking a plain HTML website and demonstrating how to use Sass to add styles using features that both ease the workload and make sites efficient downloads for user browsers.
Hoke covers a variety of core Sass aspects, looking at how to use variables to simplify development and make it easier to tweak your code, using nesting to save time on repetitive coding, how to split up CSS code into multiple files, and how to work with mixins, operators, and more.
As Hoke explains, "We'll look not just at where things go, but how you can use Sass to make CSS development easier, more organized, and more efficient."
"Sass is not a silver bullet, but it is a time saver. It offers techniques and features that, if you use them with thought and planning, can really help CSS development. It has certainly helped me both in crafting layout elements and in making websites easier to download."
Free demo videos and a full list of course contents can be found on the Learning Sass Training Video page of the Infinite Skills website:
http://www.infiniteskills.com/training/learning-sass-syntactically-awesome-stylesheets.html
Infinite Skills offers its Learning Sass Training Video either as a direct download from the company website at a retail price of $24.95, or through the company's all-access subscription streaming service available at a monthly rate of $25.00. All Infinite Skills titles and formats are compatible with Mac and Windows operating systems. Shipping is available around the globe. Additionally, Infinite Skills tutorials are supported by project files which correspond to examples in the videos, allowing users to work alongside experienced instructors right on their computer or iPad.
About Infinite Skills Inc.
A leader in the field of software training, Infinite Skills strives to offer the highest quality training available at an affordable cost. Infinite Skills tutorials are task-oriented instructional videos, teaching complex skills by providing hands-on examples and guiding users as they carry out critical objectives. Infinite Skills offers a comprehensive range of software titles available as DVDs, digital downloads, and in iPad editions, keeping with company aim of delivering professional training to customers anywhere they want to learn.