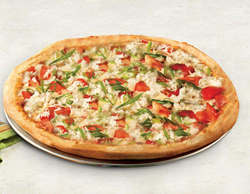 "...it connects Pizza Boli's to its roots in Baltimore!"
Pikesville, Maryland (PRWEB) June 02, 2014
For anyone who knows the Maryland and Chesapeake Bay area knows about this region's love for steamed crabs! Steamed perfectly and then sprinkled with crab-flavored spices, crabs are truly a summertime favorite!
Now, crab and pizza lovers can rejoice! June 2, 2014 marks the start of Pizza Boli's Fourth Annual Crab Pizza sale!
Along with their "Fresh, Never Frozen" dough and blend of 100% real cheeses, the pizza features tasty lump crab meat, fresh tomatoes and freshly-cut spring onions baked over crab-spiced Alfredo sauce.
"Pizza Boli's was born in the heart of Maryland, so we feel pride in featuring this popular specialty pizza annually!" states Maroula Giannaros, Pizza Boli's Marketing Director.
A large Crab Pizza is priced at $14.99 + tax for a limited time.
About Pizza Boli's:
For almost three decades, Pizza Boli's has been delivering award-winning dishes to an enthusiastic fan base. From the very beginning, Pizza Boli's wanted to deliver to its customers MORE variety. Today, Pizza Boli's has successfully accomplished what other delivery pizza companies have failed to do: offering MORE variety of toppings and MORE menu items while maintaining MORE taste. With nearly 70 stores in Maryland, Virginia, Pennsylvania, and the District of Columbia, Pizza Boli's provides diverse menus for dining, home delivery and catering. In addition to pizza it offers salads, pasta, wings, subs, strombolis and more. To see what Pizza Boli's can do for you, visit http://www.PizzaBolis.com.