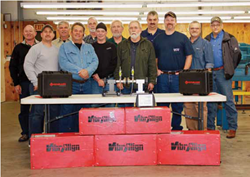 We are very excited about our new VibrAlign Lasers.
Richmond, Virginia (PRWEB) May 29, 2014
The Southern States Millwright Regional Council (SSMRC) Instructors recently took part in a three-day alignment and "Train the Trainer" training session for Fixturlaser NXA Pro laser alignment tools, which were placed at each of the six main training facilities across the Council's 11 Southern states.
The training was conducted by VibrAlign for all of the millwright instructors who teach shaft alignment for the SSMRC. The objective was to ensure that all training centers throughout the Southern District have the same training and equipment in order to greatly increase SSMRC members' productivity for all contractors.
"We're proud of the opportunity to work with the Millwright Council," said David Zdrojewski, CEO of VibrAlign. "We view this as a major part of our effort to Realign America, helping to strengthen American manufacturing and bring it back on shore."
The Fixturlaser NXA Pro from Vibralign is a work horse of an alignment system featuring many innovations plus great accuracy and reliability. The innovations start with a new display unit with a 6.5-inch touch screen with video-game-style realistic graphics, and also include a completely redesigned set of transmitter/detectors. A MEMS (microelectromechanical systems) gyroscope in the display unit powers the new Omni View function. With Omni View, the screen display changes in real time to always show the machine being aligned from the same viewing angle as seen by the operator.
According to Edward Wright, Training Director for Arkansas and Oklahoma, "We are very excited about our new Vibralign lasers…The new Fixturlaser NXA Pro from Vibralign is a laser-based shaft alignment tool that utilizes the latest technology in digital signal processing, as well as other innovations, to provide faster and even more intuitive operation, but with advanced functions and capabilities."
About SSMRC
The Southern States Millwright Regional Council is the resource for more than 5,000 highly skilled and productive millwrights from the United Brotherhood of Carpenters and Joiners of America. The SSMRC covers the 11 southern states of Alabama, Arkansas, Florida, Georgia, Louisiana, Mississippi, North Carolina, Oklahoma, South Carolina, Tennessee and Texas. The Council was established in response to the expanding needs of Southern-based companies such as refineries, paper mills, energy plants, car manufacturers and every other manufacturer in need of experienced, quality millwrights to work primarily with machinery and equipment requiring precision.
About VibrAlign
VibrAlign was started in 1983 as a vibration and alignment service organization and later became a distributor of equipment which, appropriately, equipped the company to better serve its customers. VibrAlign is America's exclusive distributor of Fixturlaser® – the manufacturer of the new Fixturlaser EVO. For more than thirty years, VibrAlign has been growing across the country. Today the company, operating out of local offices in every major region of the U.S., is out to Realign America.