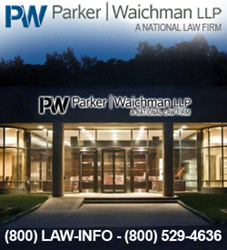 "Abuse and neglect of these very vulnerable patients is among the most horrific crimes we see..." said Gary Falkowitz, Managing Attorney at Parker Waichman LLP.
Port Washington, NY (PRWEB) May 28, 2014
National law firm, Parker Waichman LLP, has long been an advocate for residents of nursing homes who allege abuse, negligence, and other wrongdoings. Now, state reports indicate that nurses aides at Providence Christian Healthcare & Rehab Center either caused "actual harm" to residents or placed them at immediate risk of being harmed in 2013, according to a May 21, 2014 Wood TV report. Providence Christian Healthcare & Rehab Center is owned by Providence Life Services, a non-profit organization based in Chicago, Illinois.
In one case, "Certified Nurse Aide No. 13," identified as Jami Bray, allegedly became rough with a resident. According to the state report, Bray knelt on top of the patient and witnesses alleged that the aide called the resident a "stupid N-word," and that, "When it comes to black people, if they bruise, you can't see it." Bray was terminated, but the matter was not reported because, according to Providence, the statements did not cause the patient harm due to his dementia. Bray is employed as a nurse aide at Spectrum Health Rehab & Nursing Center and the state indicated it has flagged Bray's nurse aide certification based on the allegations, according to the Wood TV report.
In another case, also according to state reports, "Certified Nurse Aide D," who Wood TV identified as Solomon Mulleta allegedly broke a female resident's thigh bone in July 2013 while pushing her in her wheelchair, ignoring her cries. The report indicates that another nurse aide stated that the woman was "shaking, crying and had a look on her face like she was terrified." The facility did not investigate the broken bone, nor did it report the injury to the state, as mandated, according to records. In another case involving Mulleta, another aide heard a resident crying and discovered the man brushing a resident's hair despite that she was bleeding severely from her arm. A nurse's aide quoted by the state described the wound as "the largest skin tear she had ever seen, which extended about half the length of Resident #30′s lower arm, and it was bleeding badly," the Wood TV report indicated. Mulleta was terminated in November 2013, a full four months following the initial complaints and only after an anonymous tip that prompted the state investigation. Today, Mulleta is employed at the Grace of Douglas nursing home.
Investigators also found that Providence neglected to report allegations of mistreatment, citing state inspection reports, and that the facility neglected to investigate abuse allegations and unexplained patient injuries, which places all of its residents at "high risk for physical harm and/or injury." The state initiated its investigation following anonymous tips, Wood TV reported. The state also indicated that it discovered four residents with injuries of "unknown origin" that had not been investigated by Providence or reported to the state and reported discovering another six residents who alleged abuse that was neither investigated nor reported, according to Wood TV.
Two nurse aides employed at Providence spoke with Target 8 of Wood TV, on the condition of anonymity. "I don't trust the place," one said. "I have a really, really hard time about that. I don't trust with all the complaints and things that have happened, I don't trust that if something happened that it's going to be handled properly." Both of the nurse aides say that management is at fault, according to Wood TV.
"Abuse and neglect of these very vulnerable patients is among the most horrific crimes we see, and we continue to offer free evaluations to the families and loved ones of nursing home residents who may be receiving inappropriate treatment and who may be experiencing abuse, neglect, and other atrocities," said Gary Falkowitz, Managing Attorney at Parker Waichman LLP.
Most recently, the Kansas State Board of Nursing indicated that it continues to take steps to revoke a nurse's license following release of a video revealing what Kansas State described as abuse and neglect, according to a May 27, 2014 KAKE TV report. The Kansas State Board of Nursing scheduled a second pre-hearing for late July and a two-day hearing for late September over Geofrey Nyangweso, a registered nurse who appears on a hidden-camera video that prompted the state investigation. Nyangweso is seen in the video removing a patient diagnosed with dementia from her wheelchair and then placing her on the floor, leaving her in the dark for a significant period of time. The incident took place in Victoria Falls, a skilled nursing facility.
Nyangweso, who faces a felony abuse charge also had his license suspended; he lost his job at Victoria Falls and another job following that. Nyangweso's case is scheduled for a hearing in mid-June. Meanwhile, Victoria Falls was fined more than $150,000 dollars after the state investigation, according to KAKE TV and the Kansas State Board of Nursing revoked 103 licenses in 2013.
Parker Waichman LLP continues to offer free legal consultations to victims of injuries allegedly caused by neglect or abuse in nursing home facilities. If you or a loved one suffered an injury or neglect in a nursing home, please contact our office or visit the firm's Nursing Home Abuse page at yourlawyer.com. Free case evaluations are also available by calling 1-800-LAW-INFO (1-800-529-4636).