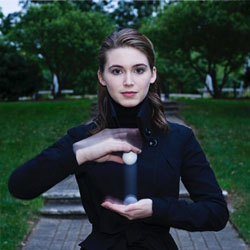 Jeanette Andrews 'Perception' is elegantly magical and thought-provoking
Seaside, FL (PRWEB) June 05, 2014
The Repertory Theatre of Seaside, Florida, founded in 2001, sees its 14th season of building itself into a world-class regional theatre company with encore performances by Jeanette Andrews. Providing high-quality professional theatre to audiences of all ages, the REP now attracts some of the finest talent around the country. Beginning June 16th, the nationally-acclaimed magician will return for a summer series where thoughts become reality, roses spin to life and audience members are absolutely enthralled. Children's magic workshops are also a highlight of Jeanette's time in Seaside.
Following last season's sell-out show, Jeannette's acts have been hailed by national media as "an inspiration" and "magic for the twenty-first century" due to her innovative take on 'the art of the impossible'. Presenting her first magic show at age four and later performing professionally at age six, Jeannette is now a full-time magician accustomed to wowing thousands across the country via stages and television shows. Homeowner's Collection will be offering a variety of accommodations for visitors who plan on staying in Seaside and neighboring 30 A communities.
To add to the inspirational summer that South Walton has planned, the first Friday of each month starting in June will host an evening of live art demonstrations, new works by local artists along with special wine and food pairings. The First Friday Artwalk is scheduled from 5 to 8 pm and located at the galleries and shops of Ruskin Place and select Central Square merchants.
The Seaside Farmers Market will also put down roots every Saturday and Tuesday from 8 am to 12 pm beginning the week of Memorial Day. Rain or shine, the collective of farmers has tasked themselves with educating the public about sustainable practices by showcasing a green living experience. Heirloom seeds, artisan cheeses and organic doggie treats are just a few of the goods to be offered.