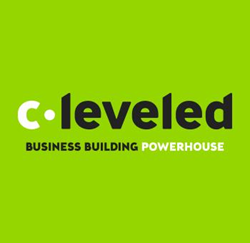 We're nimble, innovative thinkers that help companies of all sizes to grow stronger, better and, most importantly, faster.
Pittsburgh, Pennsylvania (PRWEB) May 29, 2014
A company built by entrepreneurs for entrepreneurs, C-leveled today announced a new brand positioning to convey the full power behind the company's offerings. The name is the same, but the new brand logo, tagline and website all reflect the strength and broad scope of the company's expertise as a "Business Building Powerhouse."
"The word is out there that we're nimble, innovative thinkers that help companies of all sizes to grow stronger, better and, most importantly, faster," said C-leveled CEO Michael Annichine. "And now, we've expanded our product offerings to include a full suite of services designed to help brands expand and prosper. So our brand needed to reflect that energy, versatility, range of expertise and results-driven business savvy that have become our signature."
C-leveled can truly claim to be a powerhouse of business building experts – its leadership team has collectively created, operated and profitably sold more than 25 businesses. Founded in 2009 by Denise DeSimone through her vision to share smart yet affordable business expertise with budding entrepreneurs, C-leveled has evolved through a series of acquisitions to become a mix of technology incubator, business advisors and marketing experts. The company handles every aspect of business growth for companies of all sizes, from business strategy and fundraising, to digital product development and web design, to branding.
Its Executives as a Service TM offering lets companies tap into the expertise of c-suite executives. These "CXOs," as they are known, serve as extensions of a client's leadership team without the expense and long-term commitment of a full-time hire. Clients can fill in the blank with whatever "X" they need to round out their talent, whether that's knowledge in finance, marketing, operations, human resources or technology. To complete the circle beyond consulting, C-leveled also executes tactical plans to launch companies, jump-start sales, attract new customers and add to a business' pipeline.
"There are no 'armchair MBAs' at C-leveled. Everyone we have worked with, from top to bottom, has been smart, practical and willing to do whatever it takes to help get us to the prize," said EthAssist CEO Kathy Gennuso. EthAssist is a technology company that worked with C-leveled to develop and promote a first-to-market software product that delivers mission-critical bioethics knowledge into life science, healthcare and educational organizations.
"Even the most promising and innovative ideas can fizzle out without the right support," said Founder and Chairman Denise DeSimone. "At C-leveled, we can't and won't let that happen, whether that's helping start-ups get off the ground or helping well-established, billion-dollar companies to launch new initiatives. Our positioning reflects the passion we have for the entrepreneurial spirit and all we do to ensure that businesses thrive."
About C-leveled
C-leveled is the new face of business support services for the 21st century company. We are a group of successful entrepreneurs, creatives and techies armed with the wisdom that comes from deep experience. Founded in 2009 and headquartered in Pittsburgh, C-leveled offers a mix of services to help businesses from would-be entrepreneurs to global corporations to succeed. These include Executives as a Service™, business fundamentals, branding & design, digital media, content development and customer acquisition services. For more information visit the C-leveled blog or C-leveled.com.