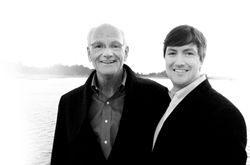 Working together on this business has brought us together as a father and son. Most people are lucky to have a phone conversation with their parents once a week, this gives me the luxury of talking with my father every day.
Morehead City, NC (PRWEB) May 29, 2014
Who says family and business don't mix? Frank and David Ferree, the father and son partnership behind Anson Belt & Buckle Company, are the spark and the piston driving a burgeoning Internet sales company that has redefined functionality for men's belts. "My father has always been a very entrepreneurial kind of guy," says David, the offspring in this father/son duo. "He started his first business way back in college and is always on the lookout for the next great opportunity." Ultimately, David's dad found inspiration in an unlikely place: "I was on a trip to China," Frank explains, "keeping my eyes open for that million dollar idea, and on the last day I happened to wander into a men's clothing store where I just felt drawn to the belt display." Frank's curiosity was piqued by a strange strap configuration without any holes, so he purchased one for himself and another as a gift for David. "But it wasn't until I got home that I tried it on," Frank remembers. "I heard that click-click-click and felt the perfect fit and my first thought was, where has this been all my life?!"
What Frank had happened upon is a concept the Ferrees have termed Micradjust Technology®. Unlike belts that use five holes spaced one inch apart, these straps feature a unique tracked backing that engages the buckle every quarter-inch. The strap is initially trimmed to length using an ordinary pair of scissors and then micro-adjusted to an exact fit. Paired with a selection of mix-and-match buckles, these belts set a new bar in terms of comfort and versatility.
"When David tried on the one I bought for him," Frank says, "he also absolutely loved the fit. Then I told him that I was going to market these belts here in the United States." David smiles as he recalls his father's initial business plan: He said, "I'm going to sell these online—and you're going to help."
In a world where knockoffs of winning products typically flood Asian marketplaces, the Ferrees turned that idea on its head. "We put a great deal of time and effort into studying and improving this product," Frank says. By consulting with attorneys, engineers, and making manufacturing liaisons in China, Ferree father and son worked to perfect the technology. They melded it with superior materials and classic styling, growing the idea into a product and a company that quickly became renowned for innovation, quality and customer satisfaction. Fate dictated that the venture would become a full-time family business: Shortly after Anson Belt & Buckle Company launched, David was laid-off from his regular job. He decided to jump into his father's new business with both feet, taking over the day-to-day operations. "He's a lot more savvy as far as the website," Frank admits, "and all the social media aspects of marketing. So it's been great to have him involved in a big way."
A crucial factor in the company's rapid rise to success has been a well placed string of endorsements and advertising: first with "Armstrong & Getty"—a popular drive-time radio show based in northern California—and later with FOX News Radio's Tom Sullivan and others. "We had an initial three-month advertising deal with A & G," Frank says, "but we had to suspend it for a time because we were running out of inventory. Our sales just exploded!"
Indeed, the public has embraced the Ferree's product and their way of doing business. "It really is the perfect accessory and the perfect gift," David explains, "because every man needs and will wear a belt. And our micro-adjusting design always provides a perfect fit—with no stretched or worn holes if you happen to put on or take off a few pounds. You don't have to know the recipient's size, and because our gift set offers a selection of mix-and-match straps and buckles you don't even have to know his exact style preference." Frank adds, "Plus, we have a lifetime warranty and a 100 percent satisfaction guarantee, something no competitor offers. If somebody is unhappy with our product for any reason, we'll gladly refund their money." He smiles, "We're not afraid to do that, because it almost never happens."
What about the family dynamics of operating a business together? David says only good things have come from running point for his dad: "Working together on this business has brought us together as a father and son. Most people are lucky to have a phone conversation with their parents once a week, this gives me the luxury of talking with my father every day." Frank laughs, "I tell him, son, you just send me a little check every month and I'll be happy."
And the Ferrees are looking forward to expanding the family payroll. In the weeks leading up to Father's Day, 2014, David is expecting the birth of his own first child—a son. "I fully plan on sharing this business with my boy some day," he says. "Hopefully, he'll be the third-generation of Anson Belt & Buckles!"
One thing is sure, there are no holes in this ambition.