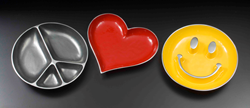 I absolutely love what I do … which makes it so much fun!
Bensenville, IL (PRWEB) May 28, 2014
The May issue of "Long Grove Living" is putting the spotlight on a local Chicago-area business. Inspired Generations (http://www.inspiredgenerations.com), a unique gift business helmed by Long Grove's very own Robin Cohen, is this month's NeighborhoodNews feature. Cohen's passion for bringing smiles to the world, her commitment to giving back and her global success are the main impetuses behind the write-up.
When "Entrepreneur" (http://www.entrepreneur.com/article/200730) magazine recently did a rundown of the "25 Common Characteristics of Successful Entrepreneurs," "Do what you enjoy" landed in the number one spot. The publication went on to point out, "What you get out of your business in the form of personal satisfaction … and enjoyment will be the sum of what you put into your business."
Robin Cohen of Inspired Generations is the embodiment of that tenet. "I absolutely love what I do … which makes it so much fun," she told "Long Grove Living" magazine. She has corralled that passion into a family business that includes her sister as her trade show travel partner, her husband Alan as her billing expert and her two children as product conceivers and namers.
Inspired Generations began four years ago when Cohen conceived of her flagship product, the Serving Peace divided chip 'n dip platter, at her Long Grove kitchen table. Since then, the company's inventory has gone on to encompass over 200 items. In that short timeframe, these pieces have been sold to over one thousand gift stores around the world, including the Art Institute of Chicago. Cohen has also developed exclusive Inspired Generations designs for Crate and Barrel.
The chip 'n dip platter went on to spur an entire Serving Peace collection that now includes whimsical bowls, trivets, coasters, spoons, tissue boxes and cookbook/electronic device holders, all of them incorporating peace, love and happiness themes. "I get inspired from everyone and everything that makes me smile," Cohen explains.
Putting smiles on individuals' faces may be Cohen's motivation, but giving back is an action she embraces just as wholeheartedly. To that end, a portion of all Inspired Generations' sales from the Serving Peace collection and the 'Lil Bag of Wishes breast cancer awareness pink organza token bags are donated to charitable organizations.
People looking for unique gift ideas and shops who wish to carry the product line can learn more about Inspired Generations' lineup of serving pieces, decorative accents and home décor online at http://www.inspiredgenerations.com. For more information on Inspired Generations, contact Robin Cohen at (847) 913-9891 or email robin(at)inspiredgenerations(dot)com.