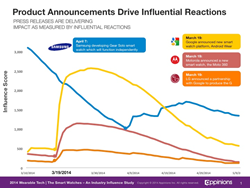 It's rare to find a marketplace where a company and its CEO can demonstrate this much influence without ever saying a word.
New York, NY (PRWEB) May 28, 2014
While the world waits for the iWatch and Apple remains silent about it, nearly every other large technology hardware company has been jockeying for position with smart watch related product releases, technology announcements, or acquisitions. In the press and on social media, rumors and analysis are everywhere. To understand which companies and executives are influencing the conversation and who is generating meaningful reactions, Appinions today released the 'The Smart Watch Industry Influence Study'.
In the report, Samsung is ranked #1 on the list of 'Most Influential Companies', primarily due to the February release of their Gear series of watches, and the April 7th announcement of the Gear Solo, which will be Samsung's first watch to function independently from a smart phone. Apple is #2, although they have yet to release any smart watch products and have made no relevant statements other than 'no comment'. Google earned the #3 spot on the strength of their technology announcements regarding upcoming Smart Watch technology for the Android platform. Motorola, LG, Acer, Pebble, Sony, Intel, and Microsoft round out the top 10.
On 'Most Influential Executives' list, the top spot went to Nike CEO Mark Parker, based on the reaction to his April announcement that Nike was moving from hardware to a software focus – a move that was seen as confirming the reality of the Apple iWatch. Sonny Vu, CEO of Misfit Wearables is #2, and Tim Cook of Apple took the #3 position. Executives from Intel, Jawbone, Motorola, AT&T, and Blackberry also earned spots on the list.
"It's rare to find a marketplace where a company and its CEO can demonstrate this much influence without ever saying a word," said Larry Levy, Founder and CEO of Appinions Inc. "But the explosive moves we're seeing with every product announcement or new release shows that this nascent space is being hotly contested and in the long term still very much up for grabs."
To create this report, using material published between February 10th 2014 and May 9th 2014, the Appinions identified approximately 25,000 opinions relevant to the smart watch marketplace. The opinions and the reactions generated were then scored using our proprietary scoring algorithm, which considers the people or entities who reacted to these opinions, the credibility of the outlet where the reaction was published, and the overall volume of reactions to each opinion.
The Appinions Smart Watch Influence Study is available as a free download at http://www.appinions.com/resources/wearable-tech-smart-watches/.
###
About Appinions
Appinions is an Influence Marketing Platform that helps B2B businesses to identify, manage, and measure the people and ideas that impact companies and their products. Built on more than a decade of Cornell University research, the Appinions platform helps marketers gain a clear understanding of whose opinions are driving market awareness and perception, which themes are resonating with prospects, and which channels are delivering the greatest impact. The insights delivered by Appinions enable marketers to dramatically improve the performance of content marketing programs, executive influence efforts, product launches, and more. Learn more at http://www.appinions.com
Data Journalism at Appinions
The Appinions data journalism team uses technology to research and report on key trends in the state of influence and reactions in various business markets. Each year, in partnership with Forbes Magazine, the company releases the annual '50 Most Influential CMO Report'. The company has published Industry Influence Study's focusing on mobile payment technology, automobiles, diabetes, and a dozen other categories.