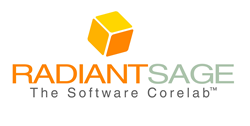 Belmont, Mass. (PRWEB) June 02, 2014
"Jesse has more than two decades of experience in the imaging corelab industry," said Ven Thangaraj, CEO of Radiant Sage. "He has extensive experience in assessing and developing technology within the corelab industry and has grown organizations to considerable sizes, giving him the right combination of technical and business expertise to help us take Radiant Sage to the next level of growth."
"I'm very excited to be joining Radiant Sage," said Bowden. "The company has technology solutions that lead all others within the industry. The Corelab-In-A-Box solution is light years ahead of other imaging technologies on the market. I'm impressed with the vision of the company taking the virtual corelab concept from the drawing board to a practical working solution. I have become such a believer in it as the future of the industry that I made the decision to be a part of this great company. I am confident that Radiant Sage will be the leading clinical trial image management solution provider within the next few years and I'm looking forward to helping it reach that goal."
Prior to joining Radiant Sage, Bowden spent 10 years as president of Imaging Services at Biomedical Systems where he started the division in 2004 and successfully built it into a multi-million dollar revenue stream. Before that, he was the assistant director, Medical and Regulatory Affairs at Tyco Healthcare Mallinckrodt where he had also developed their in-house imaging corelab. He has also held positions with Intelligent Imaging (purchased by Quintiles), an industry-leading corelab; and Nycomed (now GE Healthcare), where he built its in-house imaging corelab.
Bowden received his master's in electrical engineering from Pennsylvania State University and his bachelor's in computer engineering from the University of Minnesota.
About Radiant Sage
Radiant Sage provides game-changing Clinical Trial Imaging Infrastructure Solutions for organizations involved in drug discovery and research. Specifically designed for clinical trials, the company's solutions, RadClinica™, Corelab-in-a-Box™ and RadVista™ Viewer are extremely flexible and offer self-contained customization tools enabling rapid trial start and increased overall efficiency of the collection, distribution, processing, and analysis of clinical trial imaging data. The use of Radiant Sage's technologies provide sponsors with the ability to retain control of their clinical trials by leveraging these cost-effective image management solutions designed with real-time transparency in reporting at every level of the entire process. These secure and validated tools also offer increased image/data integrity over current corelab processes and meet all necessary compliance requirements. Founded in 2008, Radiant Sage is headquartered in Boston, Mass. For more information on Radiant Sage, visit http://www.radiantsage.com.
###