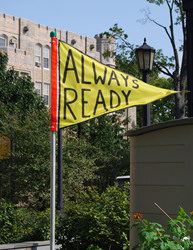 The exhibition's multi-dimensional approach reestablishes the Newark Museum's role within the local arts community by providing a forum to expand and cultivate our commitment towards this increasingly vital and independent art scene. - Steven Kern
Newark, NJ (PRWEB) May 29, 2014
The Newark Museum is presenting the 2014 edition of the New Jersey Arts Annual in Fine Art, Ready or Not, an exhibition featuring works by 40 New Jersey-based artists, at different points of their careers. Ready or Not, opens on June 27 and runs through September 7. The works in the exhibition vary in practice and style, and include a wide range of artistic processes and approaches in color, form, material and content.
"The show's title metaphorically proposes possibilities for engagement, learning and insight that the artists' creativity offers at any given moment. It also suggests a factor of unexpectedness that increases awareness of art making and its presence in our immediate surroundings," said Shlomit Dror, the Museum's Consulting Curator of American Art.
The common threads among the artists are not solely based on their shared geography, but also on the ways in which they perceive and address cultural and social values in this region. Engaging with individual works of art in this show will raise questions about place and experience, expanding the conversation on the region's identity, its narrative and context in relation to art.
"The exhibition's multi-dimensional approach reestablishes the Newark Museum's role within the local arts community by providing a forum to expand and cultivate our commitment towards this increasingly vital and independent art scene," said the Museum's CEO and Director Steven Kern.
Some of the works are site-specific, with artists responding to existing architectural space both inside and outside of the Museum, to create a new body of work, specifically for this show, among them Ariel Efron & Lucas Vickers and Dahlia Elsayed. In this show, the City of Newark is a favored subject: LNY + Mata Ruda + NDA, Newark-based muralists, present their indoor mural dedicated to the city, and Noelle Lorraine Williams explores and celebrates the city's female hip-hop culture. Likewise, a special performance by jc lenochan and his students from Newark Arts High School will take place on the opening night inside the 1784 Old Stone School House, the oldest standing school in Newark, located in the Museum's Leonard Dreyfuss Memorial Garden. This will be the first time this space has ever been utilized in a contemporary art context. The 2014 New Jersey Arts Annual showcases diverse practices and artworks including paintings, drawings, photography, video, sculptures, installations and performances.
The New Jersey Arts Annual is a unique series of exhibitions highlighting the works of visual artists in the state. The series is cosponsored by the New Jersey State Council on the Arts in partnership with major museums throughout the state including the Montclair Art Museum, the Morris Museum, the Newark Museum, The Noyes Museum of Art, and the New Jersey State Museum. Seeking to emphasize experimental approaches in contemporary art and ways in which interventions in space can transform the viewer's experience and interaction, this exhibition was open to artists currently living or working in New Jersey. It was juried by Rocío Aranda-Alvarado, Curator at El Museo del Barrio, and Shlomit Dror, Consulting Curator of American Art at the Newark Museum, who also organized the show.
Participating Artists
Ginger Andro & Chuck Glicksman (Westwood, NJ)
José Anico (Princeton, NJ)
Nina Lola Bachhuber (Newark, NJ)
Milcah Bassel (Jersey City, NJ)
Bette Blank (Madison, NJ)
Terry Boddie (West Orange, NJ)
Jinkee Choi (Jersey City, NJ)
Andrew Demirjian (Palisades Park, NJ)
Ariel Efron & Lucas Vickers (Englewood, NJ and Astoria, NY)
Dahlia Elsayed (Palisades Park, NJ)
Alyssa E. Fanning (Dumont, NJ)
Seunghwui Koo (Cliffside Park, NJ)
jc lenochan (Orange, NJ)
So Yoon Lym (Paterson, NJ)
Jennifer Mack-Watkins (Hoboken, NJ)
Kevin McCaffrey (Weehawken, NJ)
Jerry McGuire (Rahway, NJ)
Anne Q. McKeown (Secaucus, NJ)
Yucef Merhi (Montclair, NJ)
Jeremy Newman (Collingswood, NJ)
Sarah Petruziello (South Orange, NJ)
Laura Quattrocchi (Jersey City, NJ)
Tania Sen (Warren, NJ)
Fran Shalom (Jersey City, NJ)
Steve Singer (Jersey City, NJ)
Karina Aguilera Skvirsky (Jersey City, NJ)
Nyugen E. Smith (Jersey City, NJ)
Jason M. Stewart (Somerville, NJ)
Lizzy Storm (West Orange, NJ)
Christina Tenaglia (Wildwood Crest, NJ)
Amanda Thackray (Bloomfield, NJ)
Jim Toia (Long Valley, NJ)
Noelle Lorraine Williams (Newark, NJ)
Kimberly Witham (High Bridge, NJ)
Etty Yaniv (Alpine, NJ)
LNY+ Mata Ruda + NDA (Newark, NJ)
For additional information, follow the Museum on Facebook at facebook.com/newark.museum or Twitter at twitter.com/newarkmuseum; or visit http://www.newarkmuseum.org.
About the Newark Museum
The Newark Museum is located at 49 Washington Street in the heart of the Downtown/Arts District of Newark, New Jersey, between the Rutgers Newark Campus and NJPAC. The Newark Museum is 10 miles west of New York City and easily accessible by NJ Transit and PATH. The Museum is open all year round: Wednesdays through Sundays, from Noon – 5:00 p.m. Suggested Museum admission: Adults, $12.00; Children, Seniors and Students with valid I.D., $7.00. Newark Residents and Members are admitted free. The Museum Café is open for lunches Wednesday through Sunday. Convenient parking is available for a fee. The Newark Museum campus, including its collections, facilities, and other resources, is accessible to accommodate the broadest audience possible, including individuals utilizing wheelchairs, with physical impairments, other disabilities, or special needs. For general information, call 973-596-6550 or visit our web site, http://www.NewarkMuseum.org.
Newark Museum, a not-for-profit museum of art, science and education, receives operating support from the City of Newark, the State of New Jersey, the New Jersey Council on the Arts/Department of State — a partner agency of the National Endowment for the Arts, the New Jersey Cultural Trust, the Prudential Foundation, the Geraldine R. Dodge Foundation, the Victoria Foundation, the Wallace Foundation and other corporations, foundations and individuals. Funds for acquisitions and activities other than operations are provided by members and other contributors.