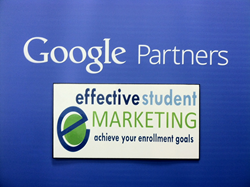 Focus on what makes you different
Andover, MA (PRWEB) May 28, 2014
Effective Student Marketing, a national higher education marketing agency located in Andover, MA, hosted a live streaming event conducted by Google on May 21st. As a Google Partner, Effective Student Marketing was able to offer its clients a unique view into the benefits of online marketing and campaigns using Google Adwords. The event speakers were: Google Vice President of Global Small Business Marketing Arjan Dijk; Google AdWords Evangelist Fred Vallaeys, and Google Director of Channel Sales Americas Ben Wood.
Dijk began by acknowledging that online marketing can be intimidating to small businesses, particularly when those businesses are faced with large competitors which seem to have a stranglehold on their niche market. But he urged companies to focus on "what makes you different" and said that smaller companies have the benefit of speed. They can interpret big data gained from campaign analytics and then "just focus on the data that matters to you." The ability to digest data and quickly adapt marketing strategies to meet their individual needs can give companies an edge over the behemoths in their sectors, indicated Dijk.
Vallaeys introduced the basics of Adwords and talked about the necessity of having a website which is optimized with the most relevant keywords and for mobile devices. He suggested some actionable points clients could do on their own but, in referring to the 60 trillion pages of Google indexes, made it clear that he wasn't recommending businesses handle Adwords campaigns all by themselves. "Ask an agency," he urged, noting that good marketing agencies know what works and also know how to adjust campaigns to changing data and evolving trends.
Focusing most specifically on the need to employ a marketing agency, Wood hammered home the three most important reasons businesses should use an agency: agencies have unique market knowledge and insight; they can increase a client's return on investment, and they can save companies time. Wood gave clients tips on how to approach working with an agency and also told them what they should expect from their agency. He said that clients should get regular reporting on online campaigns, including overall spend and results. He said that a good agency should speak to ROI and optimization, but should also give insights and strategies on how to continually improve results. Wood said that a good agency works with its clients as a business partner and is able to consistently drive traffic and results for its clients.
Effective Student Marketing is a Google Partner which means it is AdWords certified and that it meets or exceeds Google's standards for online expertise. Google Partners are recognized as trusted affiliates which employ Google best practices to maintain their own business and to meet the needs of their clients.
About Effective Student Marketing, Inc.:
Effective Student Marketing specializes in integrated online marketing strategies that bring together social media marketing, pay-per-click advertising, and content creation to help schools achieve their enrollment goals and engage with prospects, students, and graduates at all stages of the student life cycle. You can find more information about their services at effectivestudentmarketing.com.