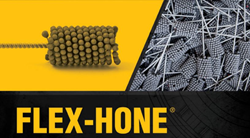 Learning which type of hone to use is an important lesson for manufacturers, machinists, metalworkers, and hobbyists.
Los Angeles, CA (PRWEB) May 28, 2014
Brush Research Manufacturing (BRM), global supplier of flexible hones and nylon abrasive brushes, is announcing technical resources for buyers of honing tools. In addition to BRM's Gold Booklet and Flex-Hone® Resource Guide, readers are invited to examine a new article that explains when to use flexible hones and when to use rigid hones for cylinder surface finishing.
Resilient, Reliable, and Long-Lasting
BRM's Flex-Hone® tool is a resilient, flexible honing tool that removes burrs from bores, deglazes cylinder walls, and imparts a superior surface finish. Sometimes called a ball hone, this flexible cylinder hone features flexible nylon filaments that are permanently laminated to ball-like abrasive globules. With hundreds of cutting points, BRM Flex-Hone® tools provide a full 360° of cutting action.
By contrast, rigid honing tools contain only two or three stones. When even one stone in a rigid hone breaks or cracks, the tool must be removed from service and the damaged stone replaced. As BRM's Gold Booklet explains, the abrasive globules on flexible honing tools are long-lasting and "practically unbreakable". These abrasive balls are also self-wearing and don't "load up" like honing stones.
When to Use Flexible Honing Tools
As a recent Flex-Hone® article explains, learning which type of hone to use is an important lesson for manufacturers, machinists, metalworkers, and hobbyists. Although honing stones can crack and break, they are recommended for some specific applications. These include initial honing (such as with OEM engine manufacturing), cylinder resizing, geometry correction, and heavy-duty material removal.
Flexible honing tools are recommended for cylinders that are not out-of-round, and to surface finish bores that have been honed to size with honing stones. As BRM's on-line article explains, flexible cylinder hones are also right for removing burrs from cross-drilled holes, breaking edges on internal features such as cross-holes and keyways, and imparting a plateau finish.
Engine Hones for Plateau Finishing
Honing stones are necessary for some applications, but rigid hones can produce a rough surface finish with high, sharp peaks. That's why, as the Flex-Hone® Resource Guide explains, BRM is "a strong supporter of the benefits of a cross hatch, plateaued finish". By smoothing high, sharp peaks, flexible honing creates a substantially flat surface.
Plateau finishing allows piston rings to seat and seal without damaging their edges, and also promotes longer seal life. By creating a series of uniformly-spaced, oil-retaining grooves, flexible honing also promotes lubrication control and oil retention. Additional benefits include increased bearing area and reduced wear.
About Brush Research Manufacturing
Brush Research Manufacturing (BRM), maker of flexible honing tools and nylon abrasive brushes, is located in Los Angeles, California. For 55 years, we've been solving difficult finishing problems with brushing technology. BRM's Flex-Hone® tool is the standard against which all other cylinder hones are compared. For outer diameter (OD) deburring and surface finishing, choose NamPower brush tools.
Media Contact:
Heather Jones
Director of Marketing
Brush Research Manufacturing Co. Inc.
4642 Floral Drive
Los Angeles, CA 90022
HJones(at)brushresearch(dot)com
http://www.brushresearch.com/
Ph: (323) 261-2193