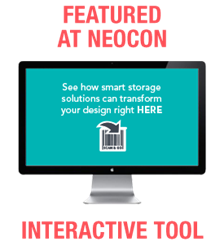 "We're hoping this interactive tool helps people look at storage a whole new way," said Mark Haubenschild, vice president of sales. "Sometimes it can be the catalyst to improving the overall function of the space."
Chicago, IL (PRWEB) June 03, 2014
Visit the Spacesaver Corporation at showroom 11-117 on June 9th – 11th to view the new interactive tool and discover how smart storage solutions can truly transform design. The interactive tool will ask guests a series of questions about their project including planning criteria, market drivers, and the specific function of the space. Within seconds, the tool will generate a custom package for the user that will showcase Spacesaver solutions through images, documents, case studies and videos, all specific to the user's project planning needs.
NeoCon is largest design exposition and conference for commercial interiors in the United States. Providing over 40,000 architecture and design profiles and more than 100 CEU-accredited seminars, forums and keynote speakers. More than 700 exhibitors from around the world attend NeoCon to represent a variety of industries and on average more than 40,000 trade professionals attend including architects, interior designers, space planners, manufacturers, corporate real estate executives and project managers.
About Spacesaver Corporation
Spacesaver Corporation is an industry leader of High-Density Mobile Storage; secure storage, locker storage, cantilever shelving, and other shelving solutions. Spacesaver has a nationwide network of local authorized representatives, The Spacesaver Group, who sell and support their industry-leading, innovative storage solutions. Spacesaver's commitment to sustainable product design began with the foundation of the business in 1972 by Theodore W. Batterman. Increases in land, building and energy costs, enabled him to create a new industry with high-density mobile storage solutions. Celebrating 40 years of success in 2012, Spacesaver continues to produce storage and shelving solutions that are designed and manufactured to save space, time and resources for our customers while increasing efficiency, cost-savings and security. Spacesaver is a division of KI located in Green Bay, Wisconsin. http://www.spacesaver.com.