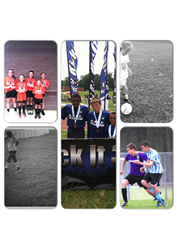 Play on and Push through
(PRWEB) May 29, 2014
High school soccer would be much more competitive if a coach or even a team could train together during the off-season. With so many regulations for when and when not a coach of a high school team can see their players really puts a burden on building team chemistry and building a program. Regulations by the state or county do not only hinder the players and program, but also some schools out there may not have the field space because they have to share with the football team or another school sport.
Not only field space being a problem, but also what about gym space when it rains so the players can practice inside. Who would get the gym space? Probably the football players. Who gets first dibs in the weight room? Football players most likely do. Point being there are a lot of disadvantages for soccer student athletes.
B.A.S.E. Training, a sports performance company, has come up with a solution for these problems. They have put together a high school soccer program that will replicate their training as well as college spring programs would. "We want to prepare high school student athletes now for college and not wait till their junior or senior year to do that. If we can push them now in this high intensity workout over the summer and then they continue to see us during the next few years, I guarantee that their first year in college soccer will not be dreadful for them." says Coach Zach.
The summer program will be 3 times a week on Wednesdays, Thursdays, and Fridays from 9 a.m. - 10:30ish a.m. "The reason we say 10:30ish is because if we see that we can push the players a little more we will go over 10:30." says Coach Zach. The program starts June 11th and will end July 23rd. The program will take place in several training locations in the Charlotte area. The cost is $50 a week. Normally training like this at B.A.S.E. Training would cost $185 for 3 times a week. You will be paying less than a third of the price! Contact B.A.S.E. Training on their contact page at http://www.basetathletics.com.
Also feel free to like and follow us on Twitter (@basetathletics), Instagram (@basetathletics), and Facebook (http://www.facebook.com/basetathletics).