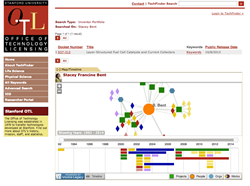 We help tell the story of what the principal investigators and their labs of researchers are known for, yet with the multi-disciplinary nature of research today the most relevant innovations may found in their collaborations.
Palo Alto, CA (PRWEB) May 30, 2014
The "TechFinder" Technology Transfer Portal offered by the Stanford Office of Technology Licensing (OTL) now features embedded widgets from Visible Legacy. Designed to facilitate the transfer of research into solutions, the widgets visually map the connections between projects, researchers, patents and publications, empowering users to more quickly grasp the context of the innovations and expertise within Stanford's $2 billion/year research ecosystem.
For over 40 years Stanford OTL has been a key hub connecting Stanford inventors and innovations with licensees and investors. OTL is considered a pacesetter and one of the country's most active offices in the field of technology transfer from university to industry. In the heart of Silicon Valley, Stanford strives for engaging and compelling websites. OTL, contributing revenue of $87M in 2013 per their annual report, maintains the TechFinder website as a central tool in its communication and outreach activities.
Visible Legacy offers an online information navigation service comprised of a unique visual website called Visible Legacy Navigator built on a high quality knowledge base of researchers and projects. The knowledge base is continuously updated from information in the cloud with proprietary machine intelligence algorithms. The company now offers both full page and compact "widget" versions that tell the story of innovation visually, not as a text list of results. These visuals deliver a great deal of related data per page, are highly interactive with filters, timelines, links and related topics, and appeal to users who like maps. Visible Legacy "connects the dots" between experts and innovations, accelerating collaboration and solution creation.
Visible Legacy widgets are now integrated into TechFinder investigator portfolios and public online documents, called "dockets", showcasing new innovations. Each widget conveys the information within the docket, showing the relationship between researchers, project descriptions, lab links, news links, patent filings, keywords, and related projects. The widgets link within the OTL site to let the user easily navigate from a current docket to related disclosures. The combination of TechFinder and Navigator lets the user interactively explore this context widely throughout the ecosystem.
"We are excited to show the progress of academic discovery and its translation into real-world solutions, which is sometimes a single point of innovation but more often methodical development of projects building on projects," says Will Snow, co-founder of Visible Legacy. "We help tell the story of what the principal investigators and their labs of researchers are known for, yet with the multi-disciplinary nature of research today the most relevant innovations may found in their collaborations."
Mary Albertson, who directs TechFinder operations at Stanford OTL, says, "Incorporating Visible Legacy widgets into an existing site such as our TechFinder adds visual presentation of information, enhances site navigation, disambiguates topics, and makes the site more 'sticky' by encouraging users to explore related projects and identify additional relevant researchers and innovations."
Visible Legacy's embeddable widgets and inclusion in the Visible Legacy knowledge mapping are available to other universities and research institutions. The process is largely automatic and sponsors are expediting the expansion of the mapping breadth and depth. Find out more at http://www.visiblelegacy.com
# # #
About Visible Legacy(TM)
Visible Legacy is in the business of organizing and curating information useful to decision makers and presenting it on the internet in the form of an online information navigation system called Visible Legacy Navigator(TM), and associated services for users. The founders are an experienced team who have collaborated on multiple successful startup companies. The firm is a for-profit, privately-held company formed in 2010, based in Palo Alto, CA.
About Stanford University OTL
The Office of Technology Licensing at Stanford University (OTL) is responsible for the licensing of various state-of-the-art university technologies and industry sponsored research agreements, material transfer agreements and collaborations. For over four decades, Stanford University has been a leader in technology transfer, fostering the growth of Silicon Valley and the biotechnology industry and providing a model for other research and educational institutions across the country and around the world.