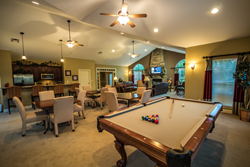 Wilcox Communities helps encourage the kind of social activity that can have a positive long-term effect on health.
Chicago, Illinois (PRWEB) May 29, 2014
For more than a decade now, Wilcox Communities has built a reputation for designing beautiful homes and friendly neighborhoods aimed at creating a strong sense of community. Now, the company is helping its residents extend that same sense of community online by providing social networking sites devoted to each of its communities.
The decision to leverage individual community-based social networking sites came after Wilcox Communities noticed the power that social sites have for bringing residents. Wilcox now uses Facebook, Twitter, blogs and other social media outlets to reach out and engage both current residents and potential customers. Company VP of Sales and Marketing, Leigh Nevers, said developing social media sites for the company and each individual community just "made sense."
"We place a lot of emphasis on designing and building entire communities that help people interact with each other, and providing a way to engage in the online social space seemed like a natural complement to those goals," Nevers said. "By offering social sites devoted to specific communities, residents have an opportunity to establish and maintain connections when and how it's most convenient for them."
Wilcox Communities have become especially popular among Baby Boomers and empty-nesters, including both busy professionals and retirees. The communities feature maintenance-free exterior spaces, so residents never need to worry about lawn care, snow removal or other time-consuming chores. They also offer community spaces like the clubhouse and on-site fitness center designed to promote social activity that can contribute to a more relaxed, more fulfilling lifestyle experience.
Staying social is more than just fun. Multiple scientific studies have emphasized the vital role social engagement plays in healthy aging, yet many older adults find making friends isn't as easy as it was when they were younger. By designing its homes and communities based on lifestyle needs, Wilcox Communities helps encourage the kind of social activity that can have a positive long-term effect on health.
"In our younger years, we have lots of social interactions built in, and we're encouraged on all fronts to 'make friends'," Nevers said. "As mature adults, it can be difficult to establish friendships, especially once the kids are grown. During our working years, we have demands from our careers that can prevent us from investing time into socializing, but once we retire and have more time, we may have fewer opportunities to create real bonds with other people.
"At Wilcox Communities, we want to make sure our residents have the tools in place to forge new friendships and build strong neighborhoods, and in today's world, that means creating opportunities for social engagement online as well as within the actual community of homes," she added.
Incorporating dedicated online communities is a prime example of the company's drive to provide more than "just" homes. Since its founding, Wilcox Communities has been devoted to constructing living experiences that reflect the diverse needs and interests of community members, all while creating a strong sense of home.
And while that lifestyle-focused approach has made the communities extremely popular among residents, that's just one part of their appeal. Unlike many planned community developments that offer only a couple of home design options, Wilcox offers five standard home models, including two attached models and three single-family styles. They also welcome pets, which is a huge drawing card for many residents.
Today, there are more than 20 Wilcox Communities located throughout the Midwest and Southeast with plans to expand to more areas in the very near future.
"We want as many people as possible to have the opportunity to experience a more carefree, stress-free lifestyle, rich with opportunities for enjoyable activity," Nevers said. "Our residents love the communities they live in, because each community truly feels like a place to call home."
To learn more about Wilcox Communities, visit their website at http://www.wilcoxcommunities.com. You can also visit them at their blog at http://www.wilcoxcommunities.blogspot.com or their Facebook page or Twitter feed.