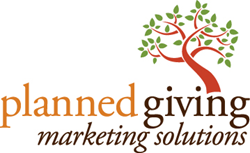 The Legacy Life Giving Program introduces to on-line donors a creative way to leverage a modest gift into a much larger legacy gift by using life insurance. It is a definite win~win for the donor, the nonprofit, and the development professional.
Carpinteria, CA (PRWEB) June 03, 2014
Carpinteria, CA. Planned Giving Marketing Solutions, LLC, (PGMS) introduces a new 'wealth replacement' program to nonprofit organizations. This program is designed to create and facilitate gifts of appreciated securities and dollars tied up in CD's earning low interest rates. The program delivers major gifts to all types of nonprofits including colleges, universities and foundations.
Wealth replacement programs have been in existence for a long time and were typically used as a strategy to reduce estate taxes. Assets were donated from an estate and a replacement life insurance policy was written and placed in a trust that could bypass estate, federal and state taxes. The change in estate tax laws made the wealth replacement program less popular, until now.
Why is it important to nonprofits and donors? The #1 reason given by contributors that they do not donate gifts of appreciated assets is because they want to leave the securities/assets to their families.
Legacy Wealth Replacement helps the donor do both by writing a life insurance policy replacing the current gift of securities or money in CD's and using the tax savings to help pay the premium. The program is designed to fully pay for a policy with a single payment, or, over 5 years maximizing the tax benefits.
Planned Giving Marketing Solutions uses current on-line technology together with contributors who are interested in making major on-line gifts. On-line giving has been growing by double digits each year with the same trends occurring with direct sales of life insurance. PGMS combines these two important trends together to meet the needs and wants of contributors.
Please visit Planned Giving Marketing Solutions to learn more about another important program, Legacy Life Giving.
Legacy Life Giving is an attractive alternative to a 'bequest'. This program creates major gifts by converting annual donations into a major contribution without disinheriting heirs. Also, on the website is a list of services and resources to help your nonprofit create major gifts from staff, volunteers, board members and longtime contributors.
Company Info:
Planned Giving Marketing Solutions, LLC specializes in the facilitation of life insurance gifts between donors and non-profit organizations. PGMS is located at 1056 B Eugenia Place, Carpinteria, CA 93013. Products are offered in most states by Tom Ligare, CA DOI #0F26541 in association with LifeHelp, Redding, CA -Tom Ligare is a member of Financial Service Professionals, Association of Fundraising Professionals and Partnership for Philanthropic Planning.