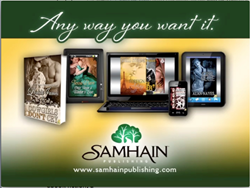 "The enthusiastic response to our titles at the Public Library Association's conference in March and our ongoing dialog with libraries and booksellers have helped us to craft our 2014 program." - Christina M. Brashear, president, Samhain Publishing
Cincinnati, OH (PRWEB) May 28, 2014
To address evolving institutional demand, Samhain Publishing® has developed a specialized outreach program for librarians and booksellers. The company will meet with new and current partners at the Book Expo America (5/28-5/31) and the American Library Association's Annual Conference (6/26-7/1) to share the program's latest features.
"The enthusiastic response to our titles at the Public Library Association's conference in March and our ongoing dialog with libraries and booksellers have helped us to craft our 2014 program for these institutions," explains Christina M. Brashear, president, Samhain Publishing. "We are very much looking forward to sharing our plans in the coming months to ensure that librarians and booksellers nationwide are able to procure the books they need for their readers."
Librarians and booksellers interested in learning more about outreach programs may contact Tanya Cowman at tcowman(at)samhainpublishing(dot)com.
About Samhain Publishing
Launched in 2005 with a vision of bringing extraordinary fiction to compulsive readers (who sometimes can't wait for a book to actually be printed), Samhain Publishing® is an international publisher of ebook and traditional print novels, novellas and short stories. One of the most prominent voices of original ebook fiction, Samhain represents some of today's brightest authors of romance and horror. To learn why at Samhain "it's all about the story…", visit Samhain Publishing online at http://www.samhainpublishing.com.