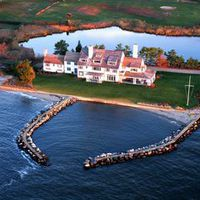 the original house was destroyed by a hurricane in 1938 and rebuilt by Katharine
Pompano Beach, FL (PRWEB) May 29, 2014
Charming, genteel and with her passion for life and work barely contained under her sophisticated manner, Katharine Hepburn was one of those remarkable women with a style of her own and a mind of her own who lived life her own way. The common denominator that propelled her work to excellence and her heady relationships with the great loves of her life such as Spencer Tracy was passion. She expressed it in other ways too, when in 1939, she designed a charming seaside home to be built on family-owned land in the Fenwick neighborhood of Old Saybrook, Connecticut, on the banks of Long Island Sound. The family had owned the land since 1913, which had been settled as early as the 1600s. Today, it is a community of 83 homes and well known for its golf, swimming and boating.
This is the home where Katharine spent her summers, but lived there full-time for seven years until her death at the age of 96 in 2003. One can't help but grin at the photograph of Katharine standing next to her beloved "Keep Out" sign at the home's entrance. It was so Katharine. Perfectly situated and private, from the Long Island Sound side there are views of the dock, protective jetties and the Saybrook Breakwater Lighthouse marking the entrance to the Connecticut River. Across from the entrance are three acres of conservation land with a large pond. Consisting of 15 nautically inspired rooms in the 8,368-square-foot home, everything is white, sunny and spacious with six bedrooms and eight baths and with superb views out of every window. There are seven fireplaces to keep it cozy and expansive porches and verandas to take in the views.
Katharine's home tastefully combines the feeling of beach house and permanent home. Even though the original house was destroyed by a hurricane in 1938 and rebuilt by Katharine, the rebuild and later total renovation holds special charm and retains historical features. It was further completely renovated in 2005 by New York builder Frank Sciame.
Katharine Hepburn's Old Saybrook home with private beach, dock and over 680 feet of shoreline on Long Island Sound, previously listed at $28 million, now priced at $14.8 million. The listing agent is Colette Harron of William Pitt Sotheby's International Realty.
Real estate is never boring at TopTenRealEstateDeals.com.