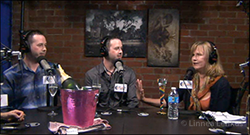 We promote our artists because we can and because they need it.
Los Angeles, California (PRWEB) May 29, 2014
Linnea Lenkus, curator of the Los Angeles art gallery Linus Galleries, recently appeared on TradioV show the "Artful Undress" as part of their ongoing series featuring pioneers of the art world. The "Artful Undress" appears live on Saturday nights at 5pm – 6pm. The art gallery curator spoke with hosts Kira, a Laguna Beach sculpture artist and Polina Hyrn, promoter of the arts about the unique ways her gallery helps to promote artists, highlighting recent art shows and what differentiates Linus Galleries from others in the art community.
Lenkus, who has been creating fine art photography for 25 years, opened her Los Angeles art gallery in 2011 with what started off as a few small online and live exhibitions and then quickly grew into a vast resource for both artists and collectors. On the gallery website art enthusiasts are able to navigate through a variety of exhibitions to find artwork that is not only visually pleasing but available for purchase. Artists from all over the world gravitate to the gallery for the intriguing themes on their call for entries page where they can easily submit their artworks for consideration. "Our shows are really blossoming," Lenkus shared. "We like thinking outside the box and have a lot of fun coming up with exciting themes that inspire artists."
The LA art gallery is continually posting new calls for art on their website and constantly promoting their online art shows such as the recent popular exhibits of ""Queer" and "Figurative" which feature artists such as Dan Pyle and Doug Lawler. "We are interested in artwork that moves us and we are particularly interested in pieces that are centered on the body and deal with humanity," Lenkus shared. After being accepted to a Linus gallery show, the artist quickly realizes that they are not working with a typical gallery. "My art gallery is focused on supporting each other and not being the stereotypical art people. We are the friendly gallery, that's our motto," shared the Linus curator.
In addition to the incredible collection of artwork that Linus showcases they also promote their artists through a variety of social media tools the latest of which is a featured blog titled the "Artist Interview Series". The informational and quirky Q&A allows readers to gain perspective on everything from an artist's technique, their struggles and even party tricks! Lenkus shared that artists are so overwhelmed with their creativity that they don't have the frame of mind for marketing and promoting themselves. "We promote our artists because we can and because they need it," Lenkus said. Host Kira commented "Most people send you a bill and your gallery is promoting people to make the world a better place. The arts are all about change and Linnea Lenkus is causing that change."
See the "Artful Undress" show featuring fine art photographer and Linus Galleries curator Linnea Lenkus at: http://tradiov.com/la/videos/artful-undress-with-linnea-lenkus-and-the-morgan-brothers-5-17-14/.
About Linus Galleries
Linus Galleries was started in 2011 by the highly experienced and internationally published Los Angeles portrait photographer, Linnea Lenkus. Linus Galleries gives the opportunity to be in both online and live juried art exhibitions to artists worldwide.