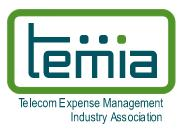 We look forward to exhibiting at the show, demonstrating solutions and sharing best practices on how we can complement enterprises' mobile strategies.
West Lake Village, CA (PRWEB) May 28, 2014
The Telecom Expense Management Industry Association (TEMIA) (http://www.temia.org), the authoritative voice for Telecommunications Management Solutions Providers and those in related areas, is pleased to recognize some of its members that will be exhibiting at Super Mobility Week, powered by CTIA. The Telecommunications Management pavilion at the show is so popular that it had to be allocated additional space. The pavilion will provide a strong focus for enterprises at Super Mobility Week that seek to address Telecommunications Management, Telecom Expense Management (TEM), Wireless Expense Management (WEM), Mobile Device Management (MDM), Enterprise Mobility Management (EMM), Managed Mobility Services (MMS) and related areas.
Ben Mendoza, MDSL CEO and founder, commented, "MDM in general and BYOD in particular have brought additional complexity and concerns to many clients, particularly in the areas of cost and security. They now have to manage thousands of additional mobile devices, which has left them with the responsibility of, first, controlling the costs of those devices and, second, optimising the benefits while measuring their impact on their business. MDSL has invested heavily in R&D to ensure our global TEM solutions are fully able to address these new market conditions and the challenges they bring, and we are looking forward to demonstrating these capabilities at this year's show."
Lyndsey Richmond Vice President, Enterprise Mobility for AuditMacs, said, "as mobile technology expands and transforms, we look forward to exhibiting at the show, demonstrating solutions and sharing best practices on how we can complement enterprises' mobile strategies."
Mark Hearn, President of Network Control said, "Network Control is excited to attending this show and meeting new contacts that are interested in learning how our clients have saved millions of dollars through complete wireless lifecycle management solutions that address Contract Negotiation, Benchmarking, Wireless Policy Management, Provisioning, MDM management, Help Desk support, Rate Plan Optimization and end user/manager reporting with financial analytics."
Super Mobility Week is North America's largest forum for the mobile innovations that power the connected life — business, home, health, money, auto, retail, media, networks and more. TEMIA members will have a reception September 7, followed by a meeting September 8, three Thought Leader panels and the Telecommunications Management Pavilion. TEMIA members are looking forward to exhibiting at Super Mobility Week, which looks to be bigger than ever.
About TEMIA
TEMIA's ongoing mission is to raise awareness, to improve the quality and value of solutions and to cultivate shared industry knowledge for Telecommunications Management, Telecom Expense Management, TEM, Wireless Expense Management WEM, Mobile Device Management MDM MMS and EMM solutions. TEMIA seeks to do this through the development and promotion of open industry standards, and industry knowledge among solutions providers, business partners, telecom service providers, and enterprise clients. Further, TEMIA members subscribe to a Code of Ethics, which clearly differentiates their level of commitment to their clients.
For more information about TEMIA, visit our website.
About CTIA Shows
CTIA Shows bring together all industries advanced by wireless technology for intense business, learning and networking. Super Mobility Week (http://www.supermobilityweek.com) takes place Sept. 9, 10 and 11, 2014 at the Sands Expo and Convention Center in Las Vegas.
About CTIA
CTIA-The Wireless Association® is an international organization representing the wireless communications industry. Membership in the association includes wireless carriers and their suppliers, as well as providers and manufacturers of wireless data services and products. CTIA advocates on behalf of its members at all levels of government. The association also coordinates the industry's voluntary best practices and initiatives, and sponsors the industry's leading wireless tradeshows. CTIA was founded in 1984 and is based in Washington, D.C.
Press Contact: Amy Storey, astorey(at)ctia(dot)org, 202-736-3207