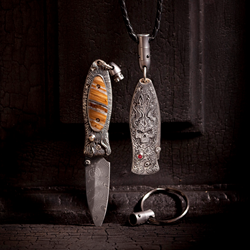 We see jewelry as a strong and exclusive personality statement.
Las Vegas, NV (PRWEB) May 28, 2014
Men's luxury brand William Henry makes a strong debut in the world of men's jewelry introducing 'Morpheus', the world's first luxury pendant knife. Featuring timeless skull symbols finely sculpted in sterling silver or bronze, centerpieces crafted from fossil Woolly Mammoth tooth or fossil coral, inlaid gemstones, and forged damascus blades, the new pendant can be easily detached from its leather necklace and also used as a striking keychain.
Created by the American luxury brand William Henry, which is celebrated for making the most exclusive and sought-after folding knives in the world, the 'Morpheus' pendant heralds the release of the brand's new jewelry collection which will be available this summer, and is tailored to meet men's growing interest in jewelry and truly exclusive personality statements.
"Men have a unique approach to jewelry" – says Matt Conable, President and creative engine of William Henry. "We see jewelry as a strong and exclusive personality statement. Like a watch or a car, we don't change it often; it becomes a symbol of our own unique personality. We seek beautiful esthetics, and intrinsic value of course, but we also value function and the possibility of owning something truly unique. William Henry's small limited editions, superb craftsmanship, rare and exotic materials have been fundamental to the success of our brand, and we hope the Morpheus and our upcoming jewelry collection will be welcomed with the same enthusiasm."
Debuting at the JCK jewelry show in Las Vegas, the Morpheus line is comprised of 4 different models: two are beautiful renditions of the timeless skull motif, sculpted in solid sterling silver or bronze, with inlaid gemstones. One is a sterling silver frame pendant inlaid with a stunning centerpiece made from 10,000 year-old fossil Woolly Mammoth tooth, the last legacy of a creature that walked the earth at the dawn of civilization, and set with diamond. The final offering is a sterling silver piece, inlaid with 100,000 year-old fossil coral, and punctuated with a sapphire on the button lock.
The hidden, state-of-the-art blades are made from damascus steel, hand-forged from hundreds of layers of different steel alloys and folded into unique tapestries reminiscent of waves and flowing water. William Henry's button lock ensures that the blade is securely locked both open and closed, for safe wear and carry.
All pendants are attached to the leather cord (or the key ring) with William Henry's new 'bullet lock': this original mechanism used embedded ceramic balls, in conjunction with small hidden magnets, to allow you to quickly release the pendant knife from the neck cord or keychain, and also to quickly switch back and forth between the two.
For over 15 years, William Henry has been redefining the world of luxury accessories for men by turning functional instruments such as pocketknives, money clips, and cufflinks into inimitable expressions of personal style. The 'Morpheus' pendant bridges the gap between luxury accessories and men's jewelry, and represents a new and important cornerstone in the brand's evolution in the world of luxury for men.
"I design and build to the limit of my imagination" - adds Conable. "Each of the pieces we conceive and create must be flawless in function and superior in artistry, which is why our creations are so appealing to our clients. Not just an elegant and fashionable statement, but immediately distinctive and rare objects, imbued with the personality and individuality that strike a personal chord with their owners."
With retail prices starting at $650, the new Morpheus pendant is available today at williamhenry.com and select luxury retailers in the Unites States and abroad.
About William Henry
William Henry is an American luxury brand devoted to the vision of designing and creating superlative functional jewelry. Designer and entrepreneur Matt Conable established the brand in 1997 creating exclusive and award-winning pocketknives, effectively transforming the archetype of all tools into a superb piece of functional jewelry for men. Today's collections also include cufflinks, writing instruments, money clips, key chains, and golf tools.
The seamless integration of classic natural materials, precious metals & gemstones, and state-of-the-art alloys is a hallmark of William Henry's work. Most of the brand's creations are limited editions, and the use of exotic materials makes every piece truly unique. William Henry's collections are available on its website and through a select network of authorized retailers in the US and abroad. For more info on WH visit williamhenry.com.