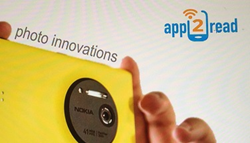 Union, NJ (PRWEB) May 28, 2014
Nokia's signed an exclusive partnership with ShakeM to use their new text to voice technology on all X series devises.
April, 2014: ShakeM's newest feature "app2read" will be loaded on all of Nokia's X series Lumina smartphones. ShakeM's breakthrough text to read capability allows its users the convenience of translating text based messages into voice.
ShakeM will launch their app2read capability in three languages, English, German and Russian, during the 2nd quarter and expand up to 50 countries through out the rest of the year. ShakeM´s app2read means click ´n pick text into audio and create with one photo shoot, an audio file. Change memorable texts in seconds into MP3 Files or easily read out texts from your smartphone on the road, in the car, anywhere. Relax if you forget your glasses and cannot read.
"App2 read will be available in the APP store making it potentially one of the world's most popular apps," stated Jürgen Pfitzner.
"The functionality works in harmony with ShakeM's click and drag technology approach. The impact improves safety factors on Nokia's mobility devices and improves the overall user experience on ShakeM's multinational movie editing portal," added Norbert Petter.
The new app2read text to audio feature will enhance convenience, improve file storage with conversion into MP3 format and is perfect for in the car and on the move situations. App2read has huge potential for assisting millions of people in the world who cannot read.
ShakeM continues to make new strides with growth and development on their IOS and Android interface. End of Q2 or Q3 is the expected launch, giving a universal reach across the targeted market. ( ShakeM English Demo)
Please contact David Hess for further information.
About Petter.Letter
Shakem.com is the principal product of the Petter.Letter GmbH (Halberstadt, Germany), which is operated by Norbert Petter, former executive officer for marketing and sales at the Salzgitter AG (one of the largest steel producers in Europe) and Jürgen Pfitzner, experienced entrepreneur and former telecommunications consultant to the German Federal Chancellor Helmut Kohl. ShakeM is currently sparking interest in many big companies (such as HP and Nokia), which allows the company to grow rapidly. The product is developed and designed based on a focus on building applications for Windows 8 and Phone 8. Petter has a long history of working with various Microsoft experts and in hosting events for the Microsoft community.
For questions please contact:
Petter.Letter GmbH
Jürgen Pfitzner
Unter den Weiden 11-12, D38820 Halberstadt
Fon: +49 3941 59539-0
eMail: j(dot)pfitzner(at)petterletter(dot)de