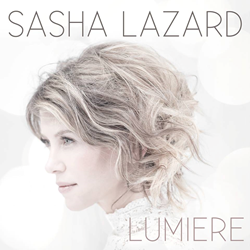 New York, NY (PRWEB) May 29, 2014
Soprano vocalist Sasha Lazard has lived a glamorous and artistically adventurous life as an innovator in the classical crossover realm, and an icon of hip, modern elegance. After a time of profound introspection, she's emerged with her most courageous album yet. Her fifth album, "Lumiere", melds singer-songwriter elements with her signature genre-crossing artistry for a stunning, musically refined and emotionally raw release.
The 13-song album blends refined autobiographical song-craft with epiphanic interpretations of a diverse selection of popular songs. Highlights are the evocative and stately "The Marshmallow Tree/Winter" and the stirring confessionals "Hiding Place" and "Belong." Complementing these tracks are gorgeous renditions of pop music, including such standouts as the sensual club track "Lumiere (Jay Sustain Remix)" and her tenderly hypnotic version of Radiohead's "Black Star."
Sasha's operatic chops and pop sensibility have put her at the forefront of what has been dubbed in the mainstream "classical crossover." Her stunning debut, "The Myth Of Red" (Higher Octave), was an epiphanic melding of genres and themes that appeared on the Billboard charts for both dance music and classical crossover. Working with Grammy Award-winning producer Peter Asher, and members of the London Philharmonic, she released the duet album, "Siren" (Manhattan Records). Sasha has also garnered prime exposure through film and TV placements. Highlights in this realm include the lead song for the box office hit, Princess Mononoke; a powerful rendition of "Ave Maria" for the Kate Winslet film, Holy Smoke; contributing music to the Andy Garcia epic Modigliani; her song "Di Notte" appearing in the film, The Lodger; and having her song "Angeli" featured in a Victoria's Secret campaign.
She's become an in-demand artist across borders and creative communities. Sasha has been invited to perform in 15 countries - some highlights in her live engagement history include performing on the beaches of Cannes and at Catherine the Great's Palace in St. Petersburg. In addition, the most discriminating names in fashion and luxury have hosted her as a special musical guest. Sasha has performed in honor of designers like Narciso Rodriguez and Caroline Herrera, and esteemed brands such as Bulgari, Salvatore Ferragamo, Louis Vuitton, and Maserati.