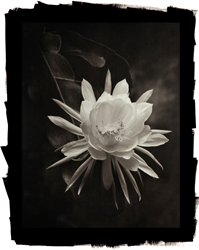 DeCosse has captured the evanescent beauty of eighteen of these little-known flowers and printed the images in platinum, a process that perfectly captures the luminous quality of moonlit beauty emerging from darkness.
Santa Fe, NM (PRWEB) May 28, 2014
Exquisite platinum photographs of unusual night-blooming flowers by internationally acclaimed photographer Cy DeCosse are the subject of The Midnight Garden exhibition at Verve Gallery of Photography in Santa Fe, NM, on display through June 21, 2014. Graceful and mysterious, DeCosse's images of tropical waterlilies, desert cacti, and other plants that bloom infrequently and only at night, captivate and enchant visitors to the gallery.
Cy DeCosse's flower photographs have often been described as magical – and never more so than those in The Midnight Garden series. These are flowers few people ever see – blooms that open at dusk, and, like the enchanted beings in fairy tales, disappear before morning. DeCosse has captured the evanescent beauty of eighteen of these little-known flowers and printed the images in platinum, a process that perfectly captures the luminous quality of moonlit beauty emerging from darkness.
DeCosse's interest in night-blooming plants was sparked by his experience photographing the elusive "Queen of the Night", a vine from the jungles of Central America, at a local conservatory. Its flowers rarely seen, DeCosse was fortunate to witness, as dusk fell, the tightly wrapped petals loosening, and in the growing darkness, gradually unfurling. A pungent peppery fragrance filled the air, becoming stronger as the flower opened. At last the delicate white petals stretched to their full extent, eight inches in diameter, proving the aptness of the flower's royal name. As a photographer keenly interested in capturing detail and light artfully, DeCosse made it his mission to find and photograph as many of such ephemeral night-blooming beauties as possible.
Working with growers and gardeners in the Midwest during the summer, and traveling to Arizona to photograph the saguaro cacti during their bloom-time in spring, DeCosse patiently contended with wind, rain, and the elements to record his fascinating subjects, some whose flowers peaked in the early evening, others just before dawn.
Night-blooming flowers are mostly light colored, often white, to enable pollinating moths or insects active at night to locate them in the dark. Because of the strong contrast between these bright flowers and the darkness that makes their stems and leaves difficult to detect, DeCosse chose the platinum printing process for The Midnight Garden. Introduced in the late 19th century, the platinum process was a cornerstone of early photography. Platinum prints are revered as one of the most beautiful forms of photography, exhibiting lustrous and subtle shades that range from the deepest blacks to the most delicate whites. This medium is ideally suited to capturing the barely visible patterns of the leaves while in no way detracting from the focus on the brilliantly white flower. The subtle textures and infinite shading of light and dark achieved with platinum enhance the mysterious feeling of flowers glimpsed by moonlight.
Each of the 18 images in the exhibition is a limited edition platinum-palladium print, done by Cy DeCosse and his master printer Keith Taylor.
Of the magic created by DeCosse's prints, critic John Wood wrote: "There is a luminosity in the lights and velvet depths to the darks that can take your breath away, and that is simply not present in the work of any other photographic artist. I have never seen platinum prints I have been so tempted to touch; I want to actually feel those dark, textured leaves, to really enter DeCosse's garden." Similarly, Mary Abbe, art critic for the Minneapolis Star Tribune, said: "Moody and lush, DeCosse's prints are masterpieces of light and shadow in which a flower's pristine petals float in translucent beauty above dark, velvety leaves and stems."
The Midnight Garden's images of night-flowering desert cacti hold a special appeal to the Southwest audience here in Santa Fe. DeCosse's limited edition photographs appeal to collectors of fine art photography, botanical art lovers, home interior designers, corporate interior designers, and other photography and art connoisseurs. His other bodies of work include "The Beauty of Food and Flowers in Platinum", "Flowers of Legend and Myth", "Improbable Machines", "The Gates of Florence", and others.
Verve Gallery has produced an engaging Artist Portrait Video featuring Cy DeCosse and his work.
The Midnight Garden by Cy DeCosse is on view at Verve Gallery of Photography through June 21, 2014. The gallery is located at 219 East Marcy Street in Santa Fe, NM. It is open Tuesday through Saturday, 11am – 5pm, and by appointment. For directions and further information, call (505) 982-5009 or email info(at)vervegallery(dot)com.
Cy DeCosse's studio, Studio 41 in Minneapolis, MN, is open by appointment. For additional images and information, and to schedule a visit, call (612) 721-2286, email studio(dot)41(at)mac(dot)com or visit http://www.cydecosse.com.
About Cy DeCosse:
Born in 1929 in Valley City, North Dakota, Cy DeCosse graduated from the Minneapolis College of Art and Design in 1952. After winning a Fulbright Fellowship to Italy in 1954, DeCosse studied photography in Florence with noted photographer Renzo Maggini. A decades-long career as art director, first at Campbell-Mithun ad agency and later at the helm of his own firm, followed. Since the 1990s, DeCosse has practiced fine art photography full-time, specializing in old photographic printing processes such as platinum, photogravure, and gum bichromate. DeCosse has exhibited widely in the United States and abroad, and has been represented by the Iris Gallery in Boston and Aspen, Weinstein Gallery in Minneapolis, John Stevenson Gallery in New York, and Verve Gallery in Santa Fe. DeCosse's photographs are in numerous private collections worldwide, including Evelyn H. Lauder Photography Collection.
About Verve Gallery of Photography:
Established in 2003, Verve Gallery of Photography showcases every genre of contemporary fine art photography, from documentary to still life, landscape, photomontage, and alternative-process. Visitors view photography in its large main hall gallery, an adjacent smaller gallery, and patrons can also peruse Verve's 4,000-plus inventory of artists' images on a large LCD monitor in the gallery. Verve is a "green" gallery with a small carbon footprint and a focus on energy conservation in its daily operations.
About Cy DeCosse's and Keith Taylor's platinum-palladium photographic print process:
Since platinum printing is a contact process, the negative must be the same size as the final print. Platinum salts and light-sensitive ferric oxalate solution, carefully measured drop by drop, comprise the sensitizer. The sensitizer is spread evenly and quickly onto the paper and dried. After the sensitized paper has been exposed to ultraviolet light, in contact with the negative, the print is processed in Potassium Oxalate. The image appears instantaneously. After being cleared in three successive trays of EDTA the print is washed and hung to dry.