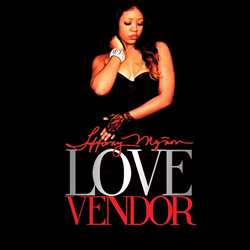 A quitter never wins and a winner never quits.
New York, NY (PRWEB) May 28, 2014
Coast 2 Coast Mixtapes announce the release of the "Dance The Night Away" single by Tiffany Mynon. The single track project is currently available for download. The song features an appearance from FredTheGodson as well as production by Amadeus and Boogie Wizzard.
Tiffany Mynon is a R&B singer from the streets of Harlem, NY. Captivated by the sounds of Diana Ross, Stephanie Mills, Chaka Chan, Madonna, Celine Dion, Whitney Houston, Lauryn Hill and New Edition since the age of 4 years old; Tiffany Mynon's passion to entertain has been a driving force in the development of her identity for as long as she can remember. Performing "Let Me Be Your Angel" with the passion and professionalism of a seasoned vet from the beginning, Tiffany has never vered from her pursuit for music industry stardom.
Tiffany received her first experience recording a single in the studio with the release of "Secret" as Tiffany, only in her mid-teens, lead the Pop group C.I.A or Cuties in Affect. Performing around the tri-state area as well as opening for girl group SWV and even Tupac Shakur in Atlanta, Tiffany quickly learned what it took to take the music industry by storm. Inking her first deal with major label Sony Records in partnership with Hall of Fame Records, Tiffany released two successful singles with the girl group Assorted Phlavors. As a signed artist Tiffany was afforded the opportunity to tour and records with artists such as Erykah Badu, Musiqsoulchild, Jay-Z, N.E.R.D., the Roots, the Black Eyed Peas, Floetry, Ginuwine, Rashaan Patterson, Olivia, Marvin Sapp, Talib Kewli, and Bishop T.D. Jakes; also landing a single titled "Hiding Place" on the Moneytrain soundtrack.
With more talent, experience, and drive than the competition Tiffany found the partnership that would take her career to the next level. While performing at BET's Blaze the Stage she caught the attention of Platinumboy Music's super producer Amadeus. The two started a partnership that is sure to make Tiffany Mynon a household name. The spoils of this partnership are Tiffany Mynon's current single featuring FredTheGodson produced by Amadeus and Boogie Wizzard titled "Dance The Night Away". "Dance The Night Away" is the perfect combination of FredTheGodson's gritty street delivery and Tiffany's soulful voice all brought together by Amadeus' expertly constructed beat. This sultry but accessible single is sure to build on the momentum created by such a partnership making its way up the Billboard charts and working toward national radio airplay. Give "Dance The Night Away" a full listen so you can say you heard it first and keep up with Tiffany Mynon on her official website at TiffanyMynon.com.
About Coast 2 Coast Mixtapes
Coast 2 Coast Mixtapes are the most widely distributed mixtapes in the world, with over 100 million downloads/plays generated by over 200 volumes officially hosted by major artists. Coast 2 Coast has a solid reach in the new music industry with a digital magazine, DJ coalition, industry tips blog, yearly convention, and more. Coast 2 Coast Mixtapes represents a unique opportunity for artists of all urban genres, from major to indie. For more information, visit http://www.coast2coastmixtapes.com.