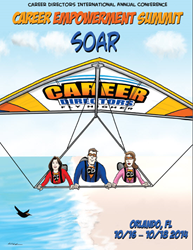 CDI wants to know they gave 110%, exceeded expectations, forecasted and dissected trends, and sent attendees home to be more efficient, effective, experienced, and empowered.
Melbourne, Florida (PRWEB) May 28, 2014
Each year, Career Directors International (CDI) strives to exceed the expectations of their attendees, industry-leading resume writers and career coaches, with their Global Career Empowerment Summit. Now in their 13th year of hosting the event, it has become known as the signature event for career professionals from around the globe to come together to learn, network, grow, and have fun.
Just like every year prior, CDI continues to raise the bar on their event making programs more interactive, session takeaways more visceral, and swag more relevant. CDI's President, Laura DeCarlo, states, "Everything we do is meant to ensure attendees gain a solid and enduring return on investment from the Summit. We want to know we gave 110%, exceeded expectations, forecasted and dissected trends, and sent attendees home to be more efficient, effective, experienced, and empowered."
So, it is no surprise that CDI would turn their laser focus toward the special gifts and door prizes that attendees take with them from the event. DeCarlo says, "We want attendees to feel like the excitement, the opportunity, and the delights never end when you attend the CDI Summit. We couldn't leave something even as seemingly minor as door prizes and gifts to chance."
With that, CDI has been surprising and delighting their attendees by successfully providing 2-4 door prizes per person valued anywhere from $10 to $2800 each for as long as they can remember. As part of this effort, they also created their author sponsorship program, which has resulted in the selection of one top industry author and presenter to provide a copy of one of their newest titles to each Summit attendee that year.
This year CDI is extremely excited to be introducing John Lees of John Lees Associates, and his publisher, Pearson, as the 2014 book sponsor. John is the author of nine career industry books and a best-selling British careers author. He will be donating copies of his 2013 title, Just the Job!, for all attendees. He will also be a featured Summit presenter with his session, Traveling Without Maps: The New World of Career Management.
In the rich history of CDI's book sponsorship, additional author contributors have included:

Martin Yate, author of Knock 'em Dead fame – Adams Media – 2x book sponsor in 2011 and 2013
Joyce Lain Kennedy, author of Dummy's books – For Dummies – 2x book sponsor in 2010 and 2013
Laura Labovich & Miriam Salpeter, author of 101 Conversations for Career Success - Learningexpress, Llc – 2012
Additional door prizes to be drawn at the Summit will be announced closer to the October event date.
Besides the industry-relevant swag, what else can a career professional attending CDI's Summit expect?
The Summit will be held October 16-18 in Orlando, Florida at the Rosen Plaza Hotel on International Drive. DeCarlo says, "The location is phenomenal – an amazing property close to the airport and the action with all the amenities under one roof and everything someone could want for after-hours entertainment just across the street. It is perfect for a career entrepreneur's need to make a learning opportunity do double-duty as a vacation."
The Summit theme this year is, "SOAR: Take Your Business to New Heights" and is complemented by industry leading presenters and topics that will help resume writers, career professionals, and industry entrepreneurs get to and stay at the top of their games.
A few additional keys that make the Summit a unique 360 degree, 365 days-a-year win for industry attendees include:
Live, face-to-face program which cements relationships and builds a strong network.
Lead-in structured networking session to break the ice and immediately find those individuals who will be their best connections.
Buddy matching to guide first-time attendees and new members to get the most out of their experience.
Private online discussion group for registrants which allows the conversation and networking to happen before, during, and after the Summit.
15 high-energy learning sessions across three days to give attendees a wealth of relevant and forward-thinking information.
Hands-on exercises and activities in every session to keep attendees on their toes and to truly cement their learning.
Closing activities in each session to create takeaways, action plans, and tools for putting new data to work.
In-depth Q&A sessions at the end of each day to sum up learning and take it to the next level.
Balanced program that delivers the newest and hottest trends in resume writing, career services, and business-building/business management.
Industry professionals can learn more about CDI's Summit on their website.
About CDI: Career Directors International – http://www.careerdirectors.com
CDI is a global membership-based organization of career coaches, resume writers, and other career professionals who seek to position themselves as industry leaders who make a difference while making an exceptional living. CDI fosters a rich, dynamic, and empowering environment for growth, professional development, career satisfaction, and industry credibility for its members.