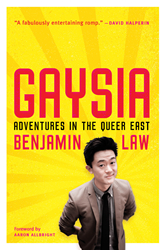 "This is investigative journalism carried out with style, empathy and unflinching honesty."—Emma Perry, ArtsHub
(PRWEB) May 28, 2014
Cleis Press is excited to announce the publication of Gaysia: Adventures in the Queer East from Australian journalist Benjamin Law. The travel writing memoir has already received reviews from Creative Loafing Tampa and NonFiction Reads Book Reviews, and will be extensively featured in a blog tour in celebration of LGBTQ Pride this June.
What People Are Saying about Gaysia:
"Benjamin Law spent nearly a year skipping between seven Asian countries, sitting backstage with Bangkok ladyboys before their beauty pageants, talking to Tokyo's superstar drag queens, marching in the heat with Mumbai's fierce queer rights activists, listening to Melaka preachers who claim they can heal homosexuality and hanging out with Bali's moneyboys and the foreigners who hire them."
—Creative Loafing Tampa
"Surprising, sometimes funny, and often poignant."
—NonFiction Reads Book Reviews
Benjamin Law considers himself pretty lucky to live in Australia: he can hold his boyfriend's hand in public and lobby his politicians to recognize same-sex marriage. But as the child of immigrants, he's also curious about how different life might have been had he grown up in Asia. So he sets off to meet his fellow Gaysians. Law takes his investigative duties seriously, going nude where required in Balinese sex resorts, sitting backstage for hours with Thai ladyboy beauty contestants, and trying Indian yoga classes designed to cure his homosexuality. The characters he meets — from Tokyo's celebrity drag queens to HIV-positive Burmese sex workers and Malaysian ex-gay Christian fundamentalists to Chinese gays and lesbians who marry each other to please their parents — all teach him something new about being queer in Asia. At once entertaining and moving, Gaysia is a wild ride and a fascinating quest by a leading Australian writer.
Benjamin Law is the author of The Family Law and a frequent contributor to frankie magazine, Monthly, and QWeekend. His work has been published in Good Weekend, Cleo, Crikey, Griffith Review, and The Best Australian Essays. He lives in Brisbane, Australia.