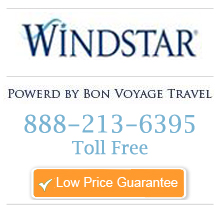 Tucson, Arizona (PRWEB) May 29, 2014
As a preferred partner of Windstar Cruises, Bon Voyage Travel is excited to reveal an inside look at the debut of Windstar Cruises' first of three new power yachts. Ryan Hansen, Vice President and Chief Operating Officer of both Bon Voyage Travel in Tucson, Arizona and their Windstar-dedicated website was one of only 10 travel agency insiders included in the inaugural sailing along with key media and special past guests. The Star Pride was christened in Barcelona on May 5, 2014 to celebrate the launch of the luxury yacht's inaugural voyage through Spain, France, and Italy. As one of the first guests Hansen was able to witness the beginning of a new era for Windstar.
"Windstar as a brand has historically defined itself by niche sailing ships, but with this cruise I saw that there is really so much more to Windstar than sailing. It truly is a yachting experience" said Hansen.
This introduction of Windstar's power yachts highlights the ships ability to access very remote, private ports that no other major cruise lines are exploring. Two of the ports in France during the inaugural sailing were so remote than none of the locals spoke English, and there were no activities prepared for tourists. The result is a very authentic, unique experience that Hansen feels will resonate with guests, particularly for seasoned travelers.
Hansen described the yachting experience on Windstar, saying "With so many unique ports, low numbers of guests, and smaller-sized ships, by the end of the cruise you really feel like you are on a yacht with close personal friends. The staff-to-guest ratios are great, and the ship is so easy to navigate."
One of the most distinctive opportunities onboard is the open bridge, which is open 24 hours a day to all guests. Hansen experienced the bridge personally one night after midnight, asking the second Officer about all the details of their course, his work and ship.
"He was more than happy to answer all my questions, and revealed that speaking with passengers is one of his favorite parts of his job. The whole crew was like that, excited to share their jobs and why they work for Windstar. You just don't get that with other lines" said Hansen.
To celebrate their inclusion in this inaugural event, Bon Voyage Travel is offering up to $200 shipboard credit on any sailing through their four locations and via their cruise website.
About the Author: Windstar Cruise Sale is one of the online Cruise Sale divisions of Bon Voyage Travel, a travel agency founded in 1976 in Tucson, Arizona. With over 35 years leading the travel industry, Windstar Cruise Sale offers additional amenities and superior service to those seeking the best cruise experience. Since Windstar Cruise Sale launched in September of 2010, Cruise Sale has expanded to operate eight dedicated online cruise sale websites, which successfully serve thousands planning their cruise vacation at the lowest price.