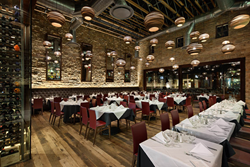 Our approach to this challenge was a fixture vocabulary that visually delineated between two distinct areas.
Seattle, WA (PRWEB) May 28, 2014
Lighting designer and founder of the internationally recognized firm Studio Lux, Christopher Thompson's was recently awarded the IESNA's Edwin F Guth National Award for Interior Lighting design for the Il Corso Restaurant in Palm Desert. Thompson's lighting design employed only LED technology, allowing the restaurant to operate 10% below California's Title 24 energy recommendations for Palm Desert.
The Edwin F. Guth National Award for Interior Lighting Design recognizes excellence within the lighting design industry. With only a select few recipients each year, the award "recognizes exceptional interior lighting projects that balance the functional illumination of space with the artistic application of light to enhance the occupant's experience." Award candidates undergo extensive judging in categories that analyze a design's complexity, efficiency, aesthetic appeal, architectural integration and beyond.
"The lighting design implemented at Il Corso is one which supports the restaurant's overall functionality as an upscale dining experience next to a sports bar," said Thompson. "Our approach to this challenge was a fixture vocabulary that visually delineated between these two distinct areas, but when observed from a distance the distinct layers were easily woven together in a visually holistic understanding of the space, and the patron's experience."
A full LED vocabulary along with the celebration of the architecture and the rich pallet of textures and materials was paramount. The fine dining area used custom cardboard pendants which were introduced as the key visual identity for this area, with several sizes and mounting heights used in a playful and whimsical manner.
About Christopher Thompson
Christopher Thompson is the founder and principal of Studio Lux, LLC, an internationally recognized architectural lighting design firm. Thompson is creating the future of LED design by blending the dichotomy of technical ingenuity with architectural integrity. With the vertical use of his degree in electrical engineering coupled with a horizontal approach to design rooted in his Fine Arts degree, Thompson's work leads the way in the future of lighting. His visionary outlook on lighting has allowed him to develop his rare skill set, catapulting him to international stardom within the architectural and design community. For more information, please visit http://www.studiolux.com.
About Illuminating Enginerring Society of North America
The Illuminating Engineering Society of North America (IES) is the recognized technical authority on illumination. For over 100 years; its objective has been to communicate information on all aspects of good lighting practice to its members, to the lighting community, and to consumers, through a variety of programs, publications, and services.
IES is almost 8,000 members strong. Its members work with lighting in a variety of capacities - lighting designers, architects, interior designers, government & utility personnel, engineers, contractors, manufacturers, distributors, researchers and educators - throughout the United States, Canada, Mexico - and around the world. They share a common interest in lighting, and a common desire to promote the use of the latest, most innovative lighting technologies, with a focus on judicious use of energy in all lighting applications.