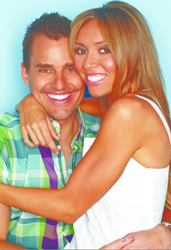 There are over 7 million women cancer survivors in this country. We each realize that a cancer diagnosis is a life game changer.
Nashville, TN (PRWEB) May 28, 2014
The National Women's Survivors Convention is privileged to announce that Giuliana and Bill Rancic will serve as honorary co-chairs for their 2014 convention. The convention provides a network where women affected by all types of cancer can find their voice, improve their quality of life and embrace their second act.
This announcement comes on the heels of rave reviews for Giuliana & Bill, the couple's hit reality show, which debuted last month on its new home on E! The debut delivered big numbers reaching over 1.1 million across the two telecasts and ranked #1 with women ages 18-34 across cable in their time slot.
Numbers only fitting since Giuliana Rancic is one of the world's most credible and well-known entertainment journalists and can be seen nightly as anchor of E! News. A breast cancer survivor, Giuliana created "Fab-U-Wish," a program to grant fashion, beauty and celebrity themed wishes to women battling this disease.
Giuliana will also step into a familiar role along the red carpet as host of the National Women's Survivors Convention Red Carpet Live Pajama Party. Convention attendees will be able to see what it's like for the world's top celebrities to be on the other end of Giuliana's microphone.
"While we cannot control what life brings us, we can control how we react," says Giuliana. "This is where we find the strength and power to persevere and succeed."
Bill Rancic burst onto the national scene when he was hired by Donald Trump as the winner of the first season of NBC's breakthrough program The Apprentice. Bill is one of the most sought-after motivational speakers on the topics of entrepreneurship and business. He educates and inspires audiences by sharing the lessons he's learned throughout his business career.
"Life's experiences make us who we are. Accept this, embrace this and use this to create the world you want and the world you deserve," says Bill. "If you do this, nothing can stop you."
"There are over 7 million women cancer survivors in this country. We each realize that a cancer diagnosis is a life game changer. Survivors must address the long-term and life limiting effects of the illness and its treatments including physical, emotional, psychosocial, legal and financial issues," said Judy Pearson, Co-Founder Women Survivors Alliance. "Survivorship, and the recognition of the many challenges survivors face following treatment, is the cutting-edge theme in the world of cancer. It is clear the time has come to move survivorship to the forefront of the cancer conversation and Giuliana and Bill exemplify this movement. We are thrilled to have them as our honorary co-chairs."
The National Women's Survivors Convention 2014 will include other celebrities, cutting edge researchers, cancer-based organizations, networking opportunities, the Celebrate Survivors 5k and the opportunity for a night out downtown. Returning favorites include the Survivors Marketplace Expo, and our THE NEW YOU makeovers. The convention details:

Thursday, July 31 - Saturday, August 2, 2014
Gaylord Opryland Resort and Convention Center in Nashville, Tennessee.
About Women Survivors Alliance
The Women Survivors Alliance (WSA) was founded in 2008 on the corner of a napkin in a restaurant in downtown Nashville. The organization was built over five years and has since exploded as the leading platform for women cancer survivors to support each other, learn how to redefine "normal" and live life after treatment. The WSA's National Women's Survivors Convention attracted over a thousand attendees from all corners of the globe in its inaugural launch in 2013, and in 2014 it is poised to be bigger and better. The event is July 31 – August 2, 2014 in Nashville at the Gaylord Opryland Resort. For more information, contact Sheila Stewart at 303.378.2022 (c) / 310.593.4413 (o) or SStewart(at)SheilaStewartPR(dot)com. http://www.Survivorville.org