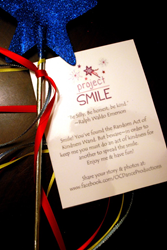 "Why wait until times of tragedy to demonstrate kindness to others when the world needs it everyday?" - Kimberly Esmond
Newport Beach, CA. (PRWEB) June 13, 2014
As parents of two young boys, Dr. Joseph Cruise and his wife immediately connected to the mission set forth by The Infinite Smile Project's (http://www.theinfinitesmile.com/ founder Kimberly Esmond of Orange County, CA., and knew they wanted to help support her ongoing efforts to encourage random acts of kindness, compassion and generosity in children as young as 3 years old, so as to engrain it in their value system throughout their life.
"It is crucial that we as a society continually encourage our children to be kind, compassionate and generous to others. The Infinite Smile Project provides creative suggestions and ideas, which inspire both children and adults, to promote these essential core values," mentioned Dr. Cruise.
To learn more about The Infinite Smile Project, please visit:
http://www.theinfinitesmile.com/
Dr. Joseph T. Cruise's Orange County practice, Cruise Plastic Surgery, will be providing The Infinite Smile Project's symbolic star wands in their office in an effort to encourage others to join the movement of distributing kindness in their daily lives and promoting this important core value to their children, family, and friends. In addition, the Cruise Plastic Surgery staff has made a commitment to support the mission by pledging to make a personal effort to deliver ongoing random acts of kindness individually and with their children, as well as to spread the word about The Infinite Smile Project.
About Cruise Plastic Surgery:
Cruise Plastic Surgery, located in Newport Beach, Orange County, California, is one of the top plastic surgery practices in the Southern California region. The director, Dr. Joseph T. Cruise, is a fully trained, board-certified plastic surgeon specializing in facelift, breast augmentation, tummy tuck and other cosmetic surgery procedures. Dr. Cruise is also one of the region's best known surgeons for rhinoplasty (nose surgery), neck lift surgery and gynecomastia. His dedication and focus is clearly evident in the comprehensive educationally based website he manages and the concierge-like customer service his patients receive from the entire office. Experience and predictably good results have earned him the distinction of being one of the best plastic surgeons in Orange County.