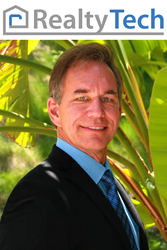 LinkedIn allows Realtors® to connect with the right people.
Thousand Oaks, CA (PRWEB) May 29, 2014
RealtyTech CEO, Richard Uzelac, will be giving the seminar, On-Ramp to LinkedIn, in Athena South from 1:00 pm to 2:00 pm at the 2014 Southland Regional Association of Realtors® (SRAR) Expo.
The 2014 SRAR Expo is on June 12 at The Odyssey Restaurant and Special Events Center in Granada Hills, CA from 9:30 am to 2:30 pm. This year's Expo is themed Information HWY 101 and will feature three educational highlighted by RealtyTech's CEO Richard Uzelac.
"I think we are seeing a evolution in the social media space. I've been a big fan of LinkedIn for business for years, and finally it is getting the attention it deserves," said Uzelac. "LinkedIn users tend to be more successful and better educated on average than those of other social media such as Facebook or Twitter. These are just the type of people the aware Realtor should be targeting now and in the future."
Uzelac will be offering his expert insights on how Realtors can optimize their LinkedIn accounts to gain credibility and build valuable professional relationships with future clients.
"LinkedIn is in fact a social platform. Even though most users are business oriented, all the same social practices need to be adhered to on LinkedIn," Uzelac added. "LinkedIn allows Realtors to connect with the right people they can provide value to. They can also join user Groups to contribute to the conversations in their areas of expertise, thus building their brand exposure and credibility."
RealtyTech Senior Account Executive, Lance Grove, will be demoing the new and improved Premium IDX123 property search at booth #1. The updated Premium IDX123 design streamlines the home search process with larger images, social media integration, searchable sold listings and more new features. RealtyTech will be offering exclusive Trade Show Pricing to those attending the SRAR Expo.
About RealtyTech Inc.
RealtyTech Inc. is a Thousand Oaks, CA-based company that gives real estate professionals the tools necessary to stand out and succeed in today's online marketplace combined with solution minded, live California-based customer service. We have over 15 years of online real estate marketing expertise and have spent over 10 years of that experience offering Agent and Office websites, IDX Home Searches and Internet Marketing. For more information, please call (877) 832-4428 or visit http://www.RealtyTech.com