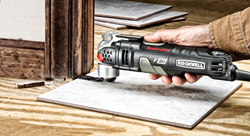 Independent test results show that Sonicrafters F50 and F30 withstand more force while cutting than any other brand.
Charlotte, NC (PRWEB) May 28, 2014
The increased oscillating angle of the new Sonicrafters, coupled with a boost in power, allows users to bear down and cut faster. In fact, the flagship Sonicrafter F50 is five times faster than the Sonicrafter RK5121K. Independent test results show that Sonicrafters F50 and F30 withstand more force while cutting than any other brand. In plain terms, the new Sonicrafters now can do more and do it better than other oscillating tools. The new Sonicrafters are becoming the go-to power tools for tackling the widest range of homeowner and professional applications and projects.
From specialty, detailed cuts to aggressive demolition cuts, these tools can do it all…and do it faster. It doesn't matter if it's trim or a truss, a door jamb or a stud, or even a long rip-cut in plywood; the Sonicrafters can handle it.
Conventional multi-purpose tools have an oscillating angle of 3.2°. In comparison, Sonicrafter F50 boasts a 5.0° oscillating angle, plus 4.0 amps of power. The Sonicrafter F30 features a 4.0° oscillating angle and 3.5 amps of power.
An increased oscillating angle and more power have resulted in the industry-best maximum cutting load of 35 lbs for the Sonicrafter F50 (RK5141K) , compared to 30 lbs. for the Sonicrafter F30 (RK5131K) and 21 lbs. for the RK5121K. Essentially, these tools can be pushed harder than any other tool before the blade stalls out. In addition, both the F50 and F30 tools feature electronic constant speed control that maintains the cut rate under load. All of this means faster, more efficient cutting.
Usually, a greater oscillating angle results in more movement and vibration. Rockwell has devised a counterweight to solve this problem and provide a smooth, efficient cut.
Rockwell Sonicrafters feature Universal Fit™, which enables them to accept other accessory brands without adapters. Also, Rockwell universal accessories are designed to interface with all other brands, so consumers can use Rockwell accessories without sacrificing fit or performance.
Sonicrafter oscillating tools feature a spring-loaded centering mount that positively engages accessories with the help of Hyperlock™, a tool-less blade-change system. Hyperlock exerts one ton of clamping force to prevent accessory slippage and blade stoppage. This is the highest accessory clamping force of any tool-less oscillating tool.
Several innovative, new accessories, plus a new line of Extended Life accessories, will hit the market this year. Rockwell's Extended Life accessories will offer bi-metal teeth for added strength and durability in rigorous applications.
A Rockwell hard case is included with the Sonicrafter F50 and F30. It features separate bulk storage areas for access to the tool and accessories. Rigid construction facilitates stacking and transport.
The new Rockwell Sonicrafter F50 (RK5141K, $139), Sonicrafter F30 (RK5131K, $119), Sonicrafter (RK5121K, $79), Sonicrafter 20V Cordless (RK2863K, $159) and ShopSeries Sonictool (SS5121, $49) will be available by Father's Day at select major retailers. Visit http://www.rockwelltools.com for further details.
Follow Rockwell Tools on Facebook: https://www.facebook.com/RockwellTools?ref=hl, Twitter:https://twitter.com/RockwellTools, Pinterest: http://pinterest.com/rockwelltools/ and Vine: @RockwellTools.