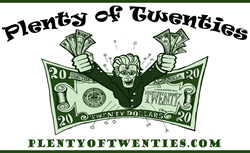 Boston, MA (PRWEB) May 28, 2014
As news about San Francisco's @HiddenCash spreads, Boston-based good guys, Plenty of Twenties, proudly reminds folks they've been hiding cash for years - every single day since September 19, 2011, to be exact.
Plenty of Twenties started as a debate between two life-long friends, Steve Grant and Rich Cook, about how far someone would go for 20 bucks. They called it a "social experiment," and it quickly turned into the free money frenzy that's been sweeping Boston. They stash at least one $20 in a different location each day around the greater Boston area, then post clues to its whereabouts.
When asked about @HiddenCash, Grant said, "I think it's great what they're doing, making people's days just like us. And it looks like they can give even more money away than we can. I mean it'd be nice if they gave us a little credit for our idea though, but hey that's OK."
To date, Grant, a lawyer, and Cook, a doctor, have given away over $20,000 and even incorporated a sponsorship program where businesses receive exposure in front of Plenty of Twenties' growing, captive audience. So all the twenties don't come out of their pockets. "We've grown into a business, but one that can do a lot of good," says Grant, who still operates his law practice just north of Boston. "Businesses are getting inexpensive marketing, and we are making people's day... which is really why we started," adds Cook.
Over time, the guys have expanded their reach by going both mobile and social. They post clues through their iPhone and Droid apps, Facebook, Twitter and email club. "You don't even need to be from Boston to get our free money. Sometimes we hold fun contests for our twenties."
Plenty of Twenties encourages a "pay it forward" mentality with their business, as they added a philanthropy arm to Plenty of Twenties, donating $2 to charity when someone lets them know they found a 20. "It may not seem like much, but it adds up and every little bit counts," says Cook.
You can find Plenty of Twenties everywhere: underneath flower pots, at charity events, even in the mail. But what comes next for the pair of entrepreneurs? "We've had some interest from investors and are looking at growing this even farther, " said Grant, "but for now we just want to keep hiding $20s, keep supporting businesses, and keep making people happy."