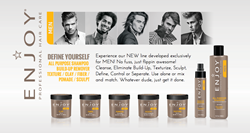 ENJOY MEN is a no-muss, no-fuss hair care line that today's active and style savvy man can truly appreciate.
Oceanside, CA (PRWEB) May 30, 2014
USP, Inc., the parent company for ENJOY Professional Hair Care, is pleased to announce a new hair care and styling line developed exclusively for men. With seven new products, ENJOY MEN offers solutions to cleanse, clarify, texturize, sculpt, define, control, and separate. Perfect for today's style-aware but ease-of-care male, the line consists of:
ENJOY MEN All Purpose Shampoo (pH 4.5-5.5)
This hair and body cleanser is designed to quickly wash away dirt and grime. It works to enhance texture and add weightless moisture to hair with a lightly scented blend of natural ingredients.
ENJOY MEN Build-up Remover (pH 4.5-5.5)
A treatment that removes product build up, ENJOY MEN Build-up Remover is great for everybody from swimmers to product daredevils. Men can get out the gunk like chlorine, pollutants, products, etc. out with this once-a-week reboot treatment.
ENJOY MEN Texture
Mostly matte and high hold, ENJOY Men Texture allows control, texture, and shape. Special conditioners add smooth separation while select polymers give the perfect hold for stay-put, piece-y results.
ENJOY MEN Clay
Low shine and mild hold offer a modern rough style with re-moldable results. Sand creates texture while clay holds things in place without a stiff result. ENJOY MEN Clay is ideal for the guy who doesn't want structure but who desires a mid-day change.
ENJOY MEN Fiber
This products helps define a disheveled 'do with high shine and higher hold. A unique blend of polymers creates strong hold without a plastic look while special fibers give definition.
ENJOY MEN Pomade
Men can satisfy their need to control everything using this high shine, medium hold pomade. Anti-humectant holding agents help puff up your pomp while special style agents keep hair in place when slicked down - ideal for the man who's on top of his image.
ENJOY MEN Sculpt
With medium shine and soft hold, this cream provides excellent separation. Sculpting emollients hold up to humidity and prevent the dreaded frizz-head.
Styling products come in an easy-travel 2oz jar. The 3.5 oz Build-up Remover is offered in a pump sprayer while the All Purpose Shampoo is available in a10 oz size. All ENJOY MEN products retail for $14.95 each and are found only in professional salons. The launch date is set for July 1, 2014.
"The men's market has been garnering some much deserved attention recently, so we've been perfecting the initial offerings for ENJOY MEN for awhile now," stated President and CEO of ENJOY Professional Hair Care Patrick Dockry. "To create this line, we went for a simplified approach starting with the multi-purpose cleansing process. We've categorized the styling products by desired result and have made them more accessible and easier to travel. ENJOY MEN is a no-muss, no-fuss hair care line that today's active and style savvy man can truly appreciate."
About ENJOY
ENJOY Professional Hair Care, a division of USP, Inc., is dedicated to providing the professional salon industry with the absolute finest hair care products and most innovative professional hair color. For more information about ENJOY MEN, please visit http://www.enjoyhaircare.com/men.