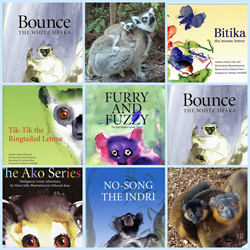 This enchanting and ravishingly illustrated little book about some of the world's most beautiful and endangered creatures cannot fail to captivate its readers, young and old. - Dr. Ian Tattersall
Myakka City, FL (PRWEB) June 03, 2014
Lemur Conservation Foundation's conservation education program for educators, the Teachers' Institute, is hosting the first 'Ako Project Workshop for Educators' from June 12-14 at our conservation habitats in Myakka City, FL. This three-day workshop is modeled on the S.T.R.E.A.M. concept (Science, Technology, wRiting, Engineering, Art, and Math). Professional Development points will be awarded and curriculum alignment is available.
The Ako series, for K-5 readers, is written by the late Dr. Alison Jolly, illustrated by Deborah Ross, and published by Lemur Conservation Foundation (LCF). Each book is written to engage children with a different lemur species and their habitat. Dr. Jolly's pioneering work in lemur conservation recognized the need to incorporate local communities and conservation education into successful plans for species conservation. The Ako Series: Madagascar Lemur Adventures was first developed for Madagascar's teachers and students. Today they are available in three languages with standards based lesson plans available in Madagascar, the United Kingdom, and the United States. Publication of the Ako Series in North America, the curriculum for schools in the USA, and this workshop are funded by Nature's Path Foods EnviroKidz initiatives.
During the three-day workshop participants will work with Kris Whipple, Karen Malesky, and the LCF conservation team. Kris Whipple, CIP, CIT, CIG, and Interpretive Consultant, produced K-5 curriculum for lessons in language arts, social studies, math, science, geography and other subjects. Ms. Whipple designs interpretive materials and curriculum guides for organizations like Disney and the San Diego Zoo in addition to Lemur Conservation Foundation and the Ako Series. She and Karen Malesky will lead the program. Ms. Malesky is a S.T.E.M. and Museum certified educator based in the Sarasota area.
Educators attending the workshop will learn about field biology and see LCF's lemur collection and habitats. At the end of the session, teachers will have Ako Series materials to teach in their classrooms, and will be prepared to share a conservation education message from the newly developed Ako resources.
The 'Ako Project Workshop for Educators' is 12 - 14 June at LCF's Myakka City, FL facility in the Sarasota - Bradenton area. For more information or to RSVP, contact Lee Nesler at 412-708-2362.
About Lemur Conservation Foundation:
The Lemur Conservation Foundation was established in 1996 by Penelope Bodry-Sanders. LCF is a leader in the conservation and preservation of the primates of Madagascar through programs dedicated to scientific research, education, lemur propagation, with a commitment to infuse art into all of our mission programs. LCF is an American Association of Zoological Parks and Aquariums accredited, 100 acre, private habitat based in Myakka City, Florida. Our current lemur population of 44 animals thrives in naturalistic semi-free ranging habitats ranging in size from 9 to 13 acres. LCF is a respected voice for science, conservation, education, art, and lemurs, the iconic image of the conservation challenges and environmental stewardship facing Madagascar and the world today. Watch this video to learn more about lemurs and LCF's mission.