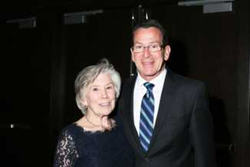 "[My mother} had a firm belief that despite what professionals were telling her, her son wasn't stupid . . . even though he couldn't tie a shoe, or button a shirt or perform in the usual academic way."
Westport, CT (PRWEB) May 30, 2014
Gov. Dannel Malloy told guests at the 12th annual Smart Kids with Learning Disabilities benefit that instead of dismissing people because they are different, society must learn to recognize that those who learn in a different way have unique strengths.
Malloy credited his mother for helping him to overcome his severe learning disabilities and physical impairments by concentrating on his strengths. "She had a firm belief that despite what professionals were telling her, her son wasn't stupid and wasn't mentally retarded even though he couldn't tie a shoe, or button a shirt or perform in the usual academic way," he said.
Another secret of his success, said Malloy, is that his mother guaranteed that her children's egos were intact. "We should work with our children and do everything we can to make sure they get every level of academic success that they can achieve, but our most important job is to make sure our children love themselves, are capable of loving others, and are happy," said Malloy, an honorary board member of Smart Kids with LD.
Sen. Richard Blumenthal (D-Conn) echoed the governor's commitment to preserve the rights of children with learning differences. As Connecticut attorney general for five terms, he said, he enforced "people's rights to legal protection, to achieve fully all of their potential, and to be regarded with respect and dignity."
"Every person is equal in the eyes of the law and ought to be equal in the eyes of our society and ought to be aided, whenever and however possible, to achieve that full potential," said Blumenthal. "In the United States Senate, now I have the opportunity to make those rights more real." Blumenthal is serving his first term as a U.S. Senator.
The gala was hosted by NBC News national correspondent Kate Snow, who shared her own experiences raising a son with learning differences. She said that when a parent first realizes there is something wrong, often a year or two passes before they look for help. "Instead of being paralyzed with fear," she said, "Smart Kids is there to help bridge the gap between suspecting there's something wrong, and identifying the problem and figuring out what steps to take."
Each year, the organization honors adults who have made outstanding contributions to the education and support of children with learning disabilities. This year, Smart Kids with Learning Disabilities honored Drs. Bennett and Sally Shaywitz, founders of the Yale Center for Dyslexia and Creativity in New Haven, Conn., who received the 2014 Professional Achievement Award.
The Shaywitzes were recognized for their pioneering work researching learning disabilities and dyslexia, and working tirelessly to promote the unique strengths of people with dyslexia.
"We are proudest of the fact that we care very, very much about people who are dyslexic and have worked very hard to make sure that the scientific knowledge just doesn't sit there, but is translated into policy and practice," said Sally Shaywitz, who, along with her husband, helped launch the Bipartisan Congressional Dyslexia Caucus in Congress in 2012.
Shaywitz said that she and her husband are also proud that they have worked "with people in every area imaginable to make sure that dyslexia is diagnosed and receives evidence-based interventions and accommodations so that people who are bright and have this unexpected difficulty in reading are able to realize their potential." Organizations like Smart Kids with Learning Disabilities play a major role in seeing that this vision becomes a reality, added Shaywitz, author of the groundbreaking book, "Overcoming Dyslexia."
The evening culminated in the presentation of the Youth Achievement Awards to recognize young people with learning disabilities and ADHD for remarkable accomplishments despite their challenges. This year marked the eleventh anniversary of the awards, which are named after the late Dr. Fred Epstein, a world-renowned pediatric neurosurgeon.
Another of the evening's highlights was the premiere viewing of "10 Million Kids," an animated video created with a grant from the Emily Hall Tremaine Foundation. The production team, led by producer Robert Williams, includes the Pulitzer-Prize winning cartoonist, author and illustrator, Matt Davies of Wilton, Conn. The film will spearhead Smart Kids' new awareness campaign to reach parents of the one in five children with dyslexia and other learning disabilities.
The event raised more than $75,000, which will be used to continue the non-profit organization's efforts to educate and support parents of children with learning disabilities and ADHD.
The Gold Sponsor for The Sky's The Limit benefit was Lindamood-Bell Learning Centers of Darien, Conn. Additional sponsors include Literacy How, a North Haven company specializing in applying reading research to successful classroom practice; the Prospect School at Wooster, for students diagnosed with language-based learning disabilities, ADHD, and executive functioning weaknesses; Eagle Hill Southport, a school for children with a specific learning disability; Rick and Lori Fernandes; and Lexia Learning, a technology-based program that increases reading proficiency for students from pre-k through through 12.
~ ~ ~
About Smart Kids with Learning Disabilities, Inc.: Smart Kids with Learning Disabilities, Inc. is a Westport, CT-based nonprofit organization dedicated to empowering the parents of children with learning disabilities (LD) and attention deficit disorders (ADHD) via its educational programs, award-winning website and blog, and free e-newsletter at http://www.SmartKidswithLD.org. The organization also educates the public about these children's gifts and talents. Henry Winkler, Golden Globe award-winning actor, director and author, serves as the organization's Honorary Chairman.