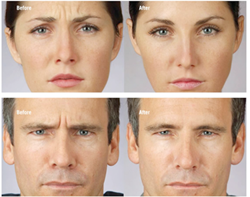 Xeonine is a "naked" (additive-free) form of the botulinum toxin type A.
Summit, New Jersey (PRWEB) May 28, 2014
Ethos Spa Skin and Laser Centers has announced the addition of Xeomin® to its growing line of anti-aging injectable products used that target deep lines and wrinkles. Xeomin is an additives-free Botox alternative for reducing or eliminating glabellar lines—those deep vertical frown lines on the face that resemble the number 11 between the eyebrows. Xeomin is often used along with Botox to treat wrinkles, severe frown lines and crow's feet.
Manufactured by Merz Aesthetics, Xeomin works by softening lines and wrinkles, and by blocking signals between facial nerves and muscles to prevent muscle contractions. Xeomin's effects become visible within one week, and the results last from three to six months, making it comparable to Botox in terms of both onset and duration of results.
Xeomin gained U.S. approval after two pivotal clinical trials involving 16 investigational sites and 547 healthy adult patients whose glabellar lines were significantly reduced within 30 days of their first Xeomin injection. Because it is a "naked" (additive-free) form of the botulinum toxin type A, Xeomin is the only botulinum toxin currently approved in the U.S. that does not require refrigeration prior to reconstitution.
Anti-aging products like Botox, Dysport and Xeomin have plenty in common, but they also have some important differences. Although all three contain the botulinum toxin, Xeomin is the only pure form of botulinum toxin type A, which may lessen the patient's likelihood of developing antibodies and triggering an allergic reaction.
Originally prescribed to treat Cervical Dystonia (a painful condition in which neck muscles contract involuntarily) and Blepharospasm (an abnormal contractions or twitch of the eyelid,) Xeomin has being used in Europe for cosmetic procedures to reduce fine lines and wrinkles for years.
Many patients and practitioners prefer neurotoxins for anti-aging cosmetic treatments instead of microdermabrasion and chemical peels because the botulinum toxin works more directly and releases wrinkles for months at a time. Plus, injectable neurotoxin treatments do not require the same downtime or cost commitments as traditional facial surgeries such as face or brow lifts. Injectable products such as Xeomin, Botox and Dysport require only a brief office visit, and most patients return to work that same day.
Both Botox and Xeomin take about 7 days for the full effects to be visible, and results last an average three to six months before another treatment is required.
For more information on Xeomin anti-aging treatments or any of the expert aesthetic services available at the Ethos Spa, Skin and Laser Center, visit the Ethos Spa website, call the Summit location at (908) 273-5400, or call the Englewood location at (201) 541-6600.
About Hardik Soni, M.D. and Ethos Spa, Skin and Laser Center:
Ethos Spa, Skin and Laser Center Medical Director Hardik Soni, M.D. strives to achieve the best possible results for his patients by drawing on his experience and proficiency with multiple laser platforms, earned from having performed more than 15,000 cosmetic treatments including botulinum injection (Botox and Dysport), dermal fillers (Juvederm, Restylane, Radiesse), laser hair removal, chemical peels and laser skin rejuvenation. He is a platinum level injector with Allergan, the makers of Botox and Juvederm; his primary focus is on minimally invasive and non-invasive cosmetic procedures including Aesthera Candela, Cutera, Fraxel, Sciton and Syneron. Soni believes in a more conservative approach to cosmetic procedures, and prioritizes patient education. Clients are able to decide on their own ideal treatment after discussing their options, and weighing the expected outcomes, costs and risks.
He finished his undergraduate studies at Johns Hopkins University in Baltimore, Maryland and is board certified in Emergency Medicine. Soni currently works as an emergency room physician at Overlook Medical Center in Summit, New Jersey, as well as serving as medical director of Ethos Spa, Skin and Laser Center. He was recently chosen to the Advisory Medical Panel of Bella Magazine in NYC.
Ethos Spa, Skin and Laser Center is committed to providing the safest, most effective aesthetic procedures, customized to each individual client, utilizing the latest advances in non-invasive cosmetic treatments and technologies. Within a peaceful, luxurious environment, patients can choose from a wide array of cosmetic services and products to enhance the skin's appearance.
###