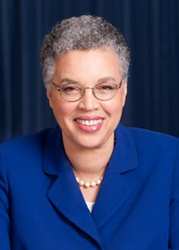 Chicago, Illinois (PRWEB) May 28, 2014
Cook County Board President Toni Preckwinkle will be the featured guest at the inaugural Chicago Rehab Network (CRN) Legacy Awards where three Chicago housing stalwarts will be honored. Cook County Commissioner (7th District) Jesús G. García, City of Chicago Department of Planning and Development Managing Deputy Commissioner for Housing Lawrence Grisham and Katrina Van Valkenburgh, Corporation for Supportive Housing (CSH), Managing Director, Central Region will be recognized for their exceptional commitment and contributions to building strong communities.
"The ceremony is part of our Legacy 35 – a first-ever multi-year campaign celebrating our 35 years – to raise $1 million to create an expanded housing and community development institute; provide for more nimble and flexible advocacy campaigns; and to strengthen our impact," said CRN executive director Kevin Jackson. Among the organization's supporters is NBA legend, businessman and community advocate Isiah Thomas.
The awards will take place Thursday, May 29, at Nacional 27, located at 325 W. Huron in Chicago from 5:00 – 8:00 p.m. RSVP is required to attend the event. Visit http://www.chicagorehab.org or call 312.663.3936 for more information.