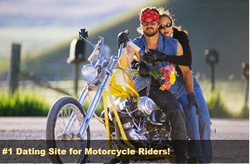 Los Angeles, California (PRWEB) May 28, 2014
Most people must have been asked this question, "What's your favorite color?" Our favorite color, to some extent, says something about who we are. The premium online dating community that specially caters to motorcycle enthusiasts, BikerKiss.com, recently polled its members on the subject. What is the color of your motorcycle? What color will you pick if you are going to purchase a motorcycle again? Over 1,000 members gave out their ideas.
Black is the most common answer that BikerKiss got from its members. Nearly 55% BikerKiss members said they own a black motorcycle, or at least owned one once, and 43% said they would still consider black if they were going to buy one again. "Why black? It's like the only color I would ever go for. Other colors wouldn't seem to fit. They are just too dazzling." said Charlie, a BikerKiss member from New Hampshire, who just purchased a black Harley-Davidson 2 weeks ago.
"Black shows sophistication." said Dean, a 45 year old biker who has spent most of his time riding around the whole country, "Rookies like to pick various bright colors, but experienced bikers won't. Plus, you would look a lot sexier on a black motorcycle."
Another 19% of BikerKiss members decided white would be the best color for a motorcycle. "White provides the greatest visibility on the road which protects you from being ignored by motorists, even at night." Larry, who lives in the populous LA and spends an average time of one hour on the road every day, cared more about safety issues. "A white bike looks cleaner even when it gets dirty."
The rest votes (26%) went to other colors.
"Mine is red. No particular reasons - maybe it's because I'm passionate as fire."
"I don't have a bike right now, but if I do I would go for yellow. I just like the warmth that color gives me. It has nothing to do with being pretentious."
"Blue. It's just my favorite color."
Visit BikerKiss for more.