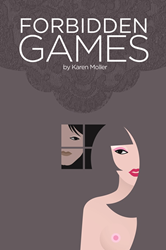 "…an unconventional love story crafted with mature elements, portraying seduction, voyeurism, masochism, and incest."
(PRWEB) May 30, 2014
Paris, France. Forbidden Games is the latest project of Canadian-born fashion designer and author, Karen Moller. Largely inspired by the classic, Wuthering Heights, this new novel moves a notch higher as it centers on two half-siblings' desperate struggles against a strong attraction that society deems should never exist.
Moller's Forbidden Games is an unconventional love story crafted with mature elements, portraying seduction, voyeurism, masochism, and incest. Set in the city of love, this novel also showcases the rich culture, fashion, and arts of Paris, France. In this city of lights, main characters Julie and Tor will break all the rules and free themselves from the bounds of society and religion for the sake of love.
Forbidden Games is now available on online stores, such as Amazon.
Karen Moller was part of the art, fashion, and feminist revolution of the 1960s. Highly successful within the design world in Paris, she later broke the fashion barriers in 1985 as she turned into a trend forecaster to the world's top designers. Her fashion forecasting firm, Trend Union, was labeled as "The world's top fashion forecaster" by Time Magazine. Other than Forbidden Games, Karen Moller is also the author of Technicolor Dreamin', a memoir of her life and adventures back in the '60s. For more information, please visit the author's official website at http://www.karenmoller.com.