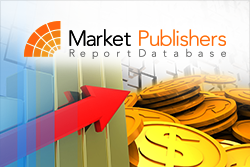 London, UK (PRWEB) May 28, 2014
Market Publishers Ltd and Biz Intellect signed a partnership agreement for quality market research promotion on Internet. MarketPublishers.com is now authorised to distribute and sell research reports prepared by Biz Intellect.
In her comments on the agreement Natalie Aster, Assistant Manager at Partners Department, noted: "Biz Intellect is a reputable provider of off-the-shelf market research and top-level strategic intelligence on a wide range of industries, including insurance, packaging, automotive, mining, power generation, construction and building materials, among others. By offering proprietary, specialised and authoritative industry data the company aims to assist its customers to better exploit the growth opportunities in the respective markets and attain their commercial goals. We are looking forward to building a strong and long-term relationship with Biz Intellect, which, we believe, will be beneficial for both parties."
In-demand Market Research Report by Biz Intellect Include:
Indonesian Automotive Industry, Market Opportunities to 2018. In Q1 2014, in spite of rising production costs and higher interest rates, the sales of automobiles in Indonesia grew by almost 11% compared to the same period last year. In 2014, domestic automobile sales will likely total 1.3 million units, spurred by the enhancing purchasing power of the steadily expanding middle class. In the same year, Indonesia is predicted to overtop Thailand and emerge as the largest automotive market in the Southeast Asia. The Indonesian automotive industry is poised for healthy growth at a 7.1% CAGR during 2014-2018, driven mainly by the surging demand for budget and economically friendly vehicles. The national automotive market is led by the Japanese companies with Toyota being the unrivalled leader. Other top players in the country's market include Honda, Suzuki, Nissan, Mitsubishi and Daihatsu. The new report offers an up-close analysis of the Indonesian automotive market, uncovers data on the market size and also evaluates the market's future growth potential. Besides, the study examines the competitive scenario in the national automotive market, discloses data on the exports and imports, and also contains a summary of the most important industry related issues.
More details on the publisher and its research reports can be found at Biz Intellect page.