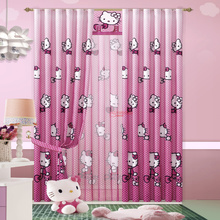 (PRWEB) May 29, 2014
Recently, Lightinhome.com, an experienced supplier of elegant curtains, has announced its new designs: eclipse kids curtains. Furthermore, the company's chief executive officer says that all its new items are offered at discounted rates, from 10 to 39 percent off.
The company is striving to make its products more beautiful and colorful. Its main purpose is to provide all kinds of high quality curtains for clients. Thus, its new range of eclipse kids curtains are available in many popular colors: blue, yellow, white, purple, blush and many others. Lightinhome.com persists in offering wonderful curtains, affordable prices and excellent online service.
It is true that the company is working hard to make the best curtains for kids. Over the past few months, Lightinhome.com has developed a lot of novel designs. It wants to make its website a one-stop shopping platform for customers who are looking for cheap and elegant home furnishing.
In addition, Lightinhome.com is considered as a trustworthy company in the global market. The company puts customer satisfaction in the very first place, and it offers 24/7 customer service at its online shop. A lot of the company's clients like its graceful curtains.
About Lightinhome.com
Lightinhome.com is one of the world's leading home furnishing retailers; it provides custom curtains and all kinds of curtains at affordable rates. The company's products include vintage floral curtains, country curtains, blackout curtains and more. All its products are made from selected materials; they are promised to be soft and beautiful.
To find more information about the company's wonderful products, please visit: http://www.lightinhome.com/kids-curtains-c-6.html.