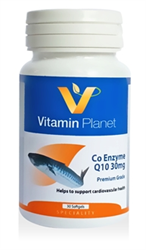 ...two-fold increase in sales of our most popular antioxidant supplement, CoQ10...
(PRWEB UK) 28 May 2014
New scientific research has proven that powerful antioxidants can reverse the effects of aging in arteries, which has exciting implications for improvements in cardiovascular healthcare.
As part of the experiments published in the Journal of Physiology on April 23rd, 2014 (http://bit.ly/1lQHfXC), researchers gave old mice the Co Enzyme Q10-based antioxidant for four weeks. After the test period, it was noted that the function of the arteries in these mice was equivalent to the function of mice half their age.
The improvement in arterial health was notes by a significant enhancement in endothelial function. The endothelium is the inner lining of cells in arteries that has an important role in releasing nitric oxide, which is a potent vasodilator. With age, the increased accumulated levels of free radicals eliminate the nitric oxide produced, which decreases the ability of arteries to dilate. This decline in arterial function is an important precursor to increased susceptibility to cardiovascular disease.
Free radicals occur naturally in the body and are kept at low levels by the body's normal antioxidants. However with age, the balance becomes unstable. "There becomes way more reactive oxygen species than your antioxidant defenses can handle," said Gioscia-Ryan, who works in Professor Douglas Seals' Integrative Physiology of Aging Laboratory at CU-Boulder.
This study places renewed focus on the protective role of antioxidants. The antioxidant used as part of the experiments was a variation of coenzyme Q10, a naturally occurring antioxidant. Senior Marketing Manager Anthony Carr at Vitamin Planet has noted the renewed interest in antioxidant vitamins and supplements.
"We have seen a two-fold increase in sales of our most popular antioxidant supplements CoQ10 and Vitamin C," says Anthony Carr. "We have a huge range of antioxidant vitamins, which are produced using the highest quality ingredients which has made Vitamin Planet the first choice for health conscious individuals."
The antioxidant targets mitochondria, which are the cellular powerhouses that release energy for activity. The chemical reactions that occur in mitochondria leads to the production of free radicals. The damage that free radicals cause to cellular structures is thought to be part of the aging process. The antioxidant studied in this paper neutralises and eradicates free radicals in the mitochondria and it appears taking antioxidant supplements long term could improve vascular function in patients with cardiovascular disease by restoring balance to the levels of free radicals.