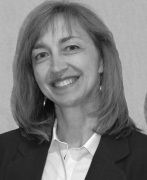 East Thetford (PRWEB) May 28, 2014
East Thetford - Lantana Consulting Group is proud to announce that Lisa Nelson, MSc, MBA, has joined its leadership team as Principal Consultant. In her new role, she will lead business development activities and continue to provide industry leadership as a medical informaticist. Nelson's background will provide a new dimension to the Lantana leadership team consistent with its vision of healthcare information interoperability across care settings.
"Lantana Consulting Group leads the industry when it comes to helping healthcare organizations develop and adopt new HIT standards. I'm excited about expanding Lantana's support for all types of stakeholders working toward interoperability across the continuum of care," says Nelson.
Nelson is a business innovator as well as a medical informaticist. She holds a Bachelor of Arts in Computer Science from the University of Massachusetts, a Master of Business Administration from Regis University, a Master of Science in Medical Informatics from Northwestern University, and training from Massachusetts Institute of Technology's Executive Education program in management, innovation, and technology.
CEO Liora Alschuler explains: "Nelson offers a great mix of technical and business experience. We are confident that she can step in, understand our client's requirements, and lead complex programs with success. She shares our vision for health information systems that will improve healthcare delivery, outcomes, and efficiency."
Prior to joining Lantana, Nelson was an independent health IT consultant. She brings over 20 years of experience and a passion for interoperability. She is active in the development of HIT standards and has authored and co-authored several standards for both Health Level Seven (HL7) and Integrating the Healthcare Enterprise (IHE). She served on the board of a Federally Qualified Health Center (FQHC) and was a member of the core management team for two of Inc. 500's fastest-growing firms. In 2011, she founded the Janie Appleseed Network (JanieAppleseed.net), an initiative that fosters consumer health literacy and transforms consumer needs into the technical requirements needed to improve the functioning of HIT systems.
Nelson's primary focus will be on new business development, while a portion of her time will be spent on program management and technical analysis for existing business. As part of the Lantana team, she will continue her volunteer work with HL7, IHE, and the Healthcare Information and Management Systems Society (HIMSS) Health Story Project.
About Lantana:
Lantana Consulting Group (http://www.lantanagroup.com) provides services and software for healthcare providers, vendors, and regulators who develop and implement standards-based health information exchange. Lantana's vision is to see health information available across the spectrum of care, supporting safe, effective, affordable healthcare that improves well-being, public health, quality of care, and research. The company's expertise includes developing and implementing over two dozen US and international healthcare data exchange standards, including the HL7 Clinical Document Architecture (CDA), Consolidated CDA (C-CDA), HQMF (Healthcare Quality Measure Format) or "eMeasure", and Quality Reporting Document Architecture (QRDA) standards—all cited as requirements for Stage 2 Meaningful Use (MU2) of electronic health record (EHR) systems in the US. Lantana operates in a distributed environment with more than 40 consultants and staff.