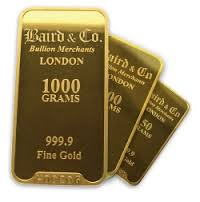 Online sales have close to doubled compared to the start of this month as hundreds take advantage of the low market prices.
(PRWEB UK) 28 May 2014
The first quarter has been dominated by a gold rush in the UAE where earlier this month it was confirmed that a $60 million gold refinery is to be built. The World Gold Council have confirmed that there has been an 18% surge in the demand for jewellery in the UAE (source: http://www.gold.org/sites/default/files/GDT_Q1_2014_v3.pdf). The total demand for gold in the UAE reached a staggering 25.4 tonnes in the first quarter of 2014. The great rush for gold has largely been attributed to Indian tourists who choose to purchase gold in the UAE rather than in India in order to avoid the Indian Gold Import Tax.
However since the newly elected Bharatiya Janata Party (BJP) confirmed that the Central Bank of India (CBI) is due to relax the current import tax on gold, the price of gold is set to fall in India. Previous legislation required 20% of all imported gold to be re-exported. As the tax legislation regarding the import restrictions on gold are to be relaxed, the demand for gold is set to pick up in India (http://in.reuters.com/article/2014/05/21/uk-india-gold-imports-idINKBN0E110520140521).
China has announced that it will be inviting the world's largest gold mining companies to take part in the new Global Gold Exchange in Shanghai. This represents a new era as China prepares to challenge the London and New York markets that currently dominate the trading and pricing of precious metals. In the hopes of making the new Global Gold Exchange a powerful institution, it has been reported that international and domestic institutions have been invited alongside the world's biggest banks.
As the gold price drops to a low for May 2014 (spot price: £26.48 per gram), demand for gold continues to rise in the UK as Marcus Allsop, Marketing Manager at Postalbullion.com confirms. "Online sales have close to doubled compared to the start of this month as hundreds take advantage of the lore market prices," says Marcus Allsop. Former Bundesbank vice president, Jurgen Stark, has recommended buying gold and silver under the current economic climate. This has predicted a further increase in the demand for gold which will inevitably drive prices higher.