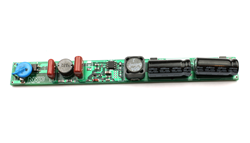 Eindhoven, Netherlands (PRWEB) May 30, 2014
NXP Semiconductors N.V. (NASDAQ: NXPI) today unveiled the SSL5015/18, a compact, high-efficient driver IC for LED solutions. Complementing NXP's broad GreenChip SSL family of products, the SSL5015/18, with an integrated MOSFET, supports lighting applications up to 18W lamp power like TLED and PAR lamp shape. The controller is available across multiple markets. The SSL5015 is optimized for US and Japan, while the SSL5018 is designed for Europe and Asia.
By introducing the SSL5015/18, NXP also adds four new reference boards to the NXP LED Driver Solutions Selection Guide. NXP's cost-effective LED Driver Solutions simplify lamp design with the right form factor to streamline the design-in process, and extend lifetime and reliability.
The SSL5015/18 offers customers a cost-effective, non-isolated solution with a high lamp power factor (PF) up to 0.9. Engineers can also tailor the demo board quickly and easily to suit their individual needs using NXP's online design tool. This tool decreases time to market and reduces margin for error with simulation capabilities.
"Building on NXP's industry-leading lighting portfolio, the SSL5015 and SSL5018 supports the global adoption of energy-saving LEDs without compromising power or wattage," said Ryan Zahn, general manager, lighting solutions product line, NXP Semiconductors. "With our online design tool, manufacturers can now customize the demo board to their desired specification, resulting in quicker time to market."
Links

About NXP Semiconductors
NXP Semiconductors N.V. (NASDAQ: NXPI) creates solutions that enable secure connections for a smarter world. Building on its expertise in High Performance Mixed Signal electronics, NXP is driving innovation in the automotive, identification and mobile industries, and in application areas including wireless infrastructure, lighting, healthcare, industrial, consumer tech and computing. NXP has operations in more than 25 countries, and posted revenue of $4.82 billion in 2013. Find out more at http://www.nxp.com.
ENDS