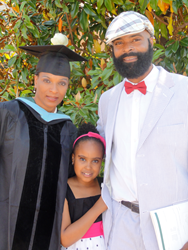 I was able to heal with the confidence that I had made the right decision and chosen the right doctor. It was totally worth it, and I'd encourage any woman suffering with fibroids to consider having this procedure.
Roswell, Georgia (PRWEB) May 29, 2014
Each year, hundreds of thousands of women seek treatment for fibroids. North Fulton Hospital's Interventional Radiologists now offer relief for patients in the form of a Uterine Fibroid Embolization (UFE). When Debbie Carter-Dye of Cleveland, Ga., learned that fibroids were the cause of her long menstrual cycles, extremely heavy bleeding, and crippling menstrual pain, she decided that a UFE was the best treatment option.
Fibroids are benign growths in the uterus that generally occur in women who are of childbearing age, and, according to the Society of Interventional Radiology, they occur in 20-50% of women. While fibroids may not cause symptoms, women who do have symptoms may have the following complaints:
A feeling of fullness in the lower abdomen
Heavy, painful periods
Bleeding between periods
Painful sex
Difficult or painful urination
Lower back pain
"In the years after I had my first child," said Debbie, "my cycles had gotten heavier, and I was bleeding for 15 days each cycle. I also had such terrible pain that I couldn't sleep without a heat pack on my stomach. The symptoms were truly affecting my ability to function in school and impacting my quality of life."
Unwilling to accept her local physician's diagnosis of cancer, Debbie visited Dr. Hughnan Frederick at Isis OB/GYN in Alpharetta. Dr. Frederick assured her that not only was she cancer free, but there were many options for treatment of fibroids including medications, a hysterectomy, endometrial ablation, and uterine fibroid embolization.
"I told Dr. Frederick that I absolutely did not want to have a hysterectomy," said Debbie, "and that's when he told me about Dr. Byrd at North Fulton Hospital."
Dr. Boyd Byrd is an Interventional Radiologist at North Fulton Hospital, and he has been helping women find the right treatment for uterine fibroids for 14 years.
"UFE offers a minimally invasive treatment for fibroids that aims to stop the blood flow to them, thereby causing them to shrink but more importantly relieve these women of their horrible symptoms," said Dr. Byrd. "This allows women to not have their uterus removed if that is their desire, and avoids any associated concerns that some woman have as a result of a hysterectomy."
So, what is a Uterine Fibroid Embolization? It is a minimally invasive treatment, completed through an incision about 1/8 inch wide in the groin. During a UFE, an interventional radiologist will make a small incision in your groin area and then feed a catheter into the artery in the upper thigh. The radiologist then injects particles that block the blood supply to the fibroids; this allows the patient's symptoms to improve and usually causes the fibroids to shrink.
Dr. Byrd's patients arrive at North Fulton Hospital in the morning, and are admitted following the procedure for an overnight stay. This allows the patient to receive care for any pain or nausea that may result from the procedure, and allows Dr. Byrd to monitor the patient's progress and improvement.
"Most patients recover in about a week," said Dr. Byrd, "though some feel well sooner and some take a little longer. For all my patients, I keep in touch by phone, just to be sure that they are healing steadily and are not having any complications. While complications are extremely rare, they can include infection and injury to the uterus."
About 90 percent of women experience relief of their symptoms after UFE. Follow-up studies over several years have shown that it is rare for treated fibroids to regrow or for new fibroids to develop after uterine fibroid embolization. The procedure is a more permanent solution than hormonal therapy.
If you want to have children, you should talk to your doctor before undergoing a UFE. While many women have had successful pregnancies after UFE, it may be more difficult to become pregnant and there is an increased risk of pregnancy complications. In addition, in some exceedingly rare cases, women who have had complications from UFE may have to undergo a hysterectomy.
"I am so glad that I found Dr. Byrd and had this procedure," said Debbie. "Initially, I was apprehensive about the procedure but Dr. Boyd's open and honest approach convinced me that it was right for me. After my surgery, Dr. Byrd continued to check on me to make sure that all was well. I felt he cared, and I was able to heal with the confidence that I had made the right decision and chosen the right doctor. It was totally worth it, and I'd encourage any woman suffering with fibroids to consider having this procedure. The care that I received was extraordinary!"
To learn more about uterine fibroid embolization or for a free referral to a physician at North Fulton Hospital who performs UFEs, please call 770-751-2530.